Many seem entirely won over by the whole
thing but there remain a few of us yet to be totally convinced. What could change that? What is the one thing missing from the standard car that might tempt us to see the light and finally give in to peer pressure?
That's right, more power! Wait, hang on...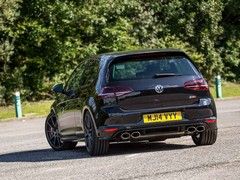 Still pretty subtle despite exhaust
Even the most hardened anti-R cynic would admit performance is the one thing not lacking in the standard car. We've tested our
and found some fairly outrageous acceleration figures that - almost - live up to the 'faster than anything on the road' boasts found on that there Internet.
But fussier types - yours truly included - still aren't satisfied. Too inert, too aloof, too grippy, too synthetic, no sense of fun - all and more have been used as ammo against the Uber Golf and remain valid criticisms. Impressive numbers or not this is still a Haldex-packing, transverse-engined hatchback, no matter how neat the detailing or attractive the finance package.
So how can it be made better? Well, Revo Technik is known for its power upgrades but 450hp and 376lb ft from a 2.0-litre four-cylinder is pretty remarkable. More so when you drive it and discover that its day-to-day performance is just as user-friendly as a standard Golf R and its transition into GT-R troubling lunacy feels so ... sensible.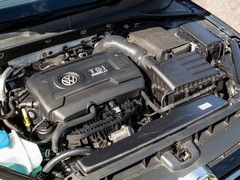 New turbo key to the huge gains
This represents the Stage 3 of Revo's packages for the EA888 2.0-litre TFSI engine, of which it has already tuned 'somewhere in the region of 3,000-4,000' motors.
is a straightforward £599 ECU upgrade giving you as much as 375hp and 360lb ft from the off.
costs a further £649 and gives a maximum of 401hp and 380lb ft but also requires some hardware upgrades: Revo's £299 high flow
, plus a turbo-back exhaust with high-flow catalytic convertors. There are options there but
is £289 for starters and includes a free upgrade from Stage 1 to Stage 2. A £625 front-mounted intercooler is also recommended.
Stage 3 as-driven is close to market after 18 months of development and takes all of the above, adds a Revo hybrid turbo and a full turbo-back Milltek exhaust system.
And the numbers are lunacy. A claimed 3.4 seconds to 60mph and 7.9 seconds to 100mph? In a Golf? Madness. The more so for how normal it feels from behind the wheel, as if this kind of performance from a VW hatch was to be expected.
19-inch wheels save 20kg and look ace
The best bits of the Revo conversion have nothing to do with the engine though. And everything to do with making the Golf R just a little more fun to be around. So the digital dampers are binned and passive
coilovers put in their place. Filling the arches are Revo's own RV019 wheels. Built by Rimstock here in the UK to Revo's specifications, at 10kg each they are claimed as the lightest cast 19-inch wheel on the market and meet exacting TUV standards. They also look great and, as we all know, properly matched springs and passive dampers with significantly less unsprung weight have a truly transformative effect on a car.
This new sense of tactility extends to the brakes too. With so much extra pace you'll be wanting a bit more stopping power anyway but Revo's Alcon-built six-pot kit adds more than that; there's also greater modulation than the standard over-servoed set-up. At £2,449 on their own by now you're likely well into a five-figure spend of course but given the 367hp Audi RS3 and (now) 381hp A45 AMG are both easily tipped into near-£50K territory with a few options it doesn't sound too bad. And if you're not ready to put it on a 'new' car just bide your time until the market is flooded with all those ex-finance Rs...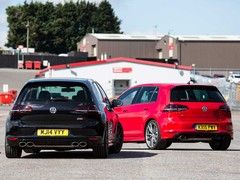 A fast Golf R, and one with 150hp more...
Would you want to though, beyond the comedy value of owning a 450hp Golf? Straight up, this isn't a miracle cure for the R's fundamentally grip'n'go character. But the Revo chassis upgrades strip away of some of the synthetic lacquer applied to the Golf's dynamic character. The differences are detail but with the reduction in unsprung weight and the predictability of the passive dampers you feel the car is working with the road rather than seeking to steamroller it flat. Even the steering feels more natural and feelsome, while the improved feel in the brake pedal helps the car flow in a way the binary standard one doesn't. Unlike standard DSG-equipped VWs you can even left-foot brake thanks to some additional electronic tweaking, the ability to trail the brakes into the corner while bringing the throttle in early to wake the turbo and erupt out of it on maximum boost revealing new-found adjustability. Fun even. Really!
It's still a fundamentally neutral car but the fact it can handle this much extra power without even appearing remotely ruffled is massively impressive. And you never, ever tire of the sheer madness of the acceleration when that turbo spools. Sure, it takes a little more time to gather itself than the standard one but the sheer excitement more than makes up for it and the sleeper element of performance like this in a plain black Golf never loses its appeal. And off-boost it's just a normal Golf, with no noticeable impact on fuel consumption driven on back to back commuting detail with 'our' standard R.
Aftermarket tuning remains a Marmite issue but if the increasing abilities of stock cars has done anything it's weeded out those offering cheap fixes from those who do it properly. And the quality and OE feel of the Revo upgrades is nearly as astonishing as the outrageous performance they unleash. That and the discovery of the R's previously hidden sense of fun.

---
VOLKSWAGEN GOLF R
Engine: 1,994cc 4-cyl turbo
Transmission: 6-speed manual/6-speed dual-clutch auto (DSG), four-wheel drive
Power (hp): 450@TBC (300@5,500rpm)
Torque (lb ft): 376@TBC (280@1,800-5,500rpm)
0-62mph: c. 3.4sec* (5.1sec/4.9sec DSG)
Top speed: 155mph (standard car)
Weight: 1,476kg/1,495kg DSG (standard car to EU, three-door, +30kg for five-door)
MPG: 39.8mpg/40.9mpg DSG (standard car, NEDC combined)
CO2: 165g/km/159g/km DSG (standard car)
Price: £30,820 (Basic OTR price for three-door manual; price as tested approx. £44,132 comprising £32,235 for three-door Golf R DSG as driven; Revo Stage 3 Hybrid Turbo kit £2,500; Stage 3 software update £958; DSG development software £478; Bilstein B16 PSS9 springs/dampers £1,440; Revo RV019 wheels £1,198; Revo by Alcon Mono6 brake kit £2,938; Revo carbon fibre cold air intake £360; Revo front-mounted intercooler £625 and Milltek resonated turbo-back exhaust £1,400 - all prices inclusive of VAT, final cost of Stage 3 turbo and software TBC but as currently quoted by Revo Technik)
*Quoted performance figures from Revo, figures in brackets for standard car