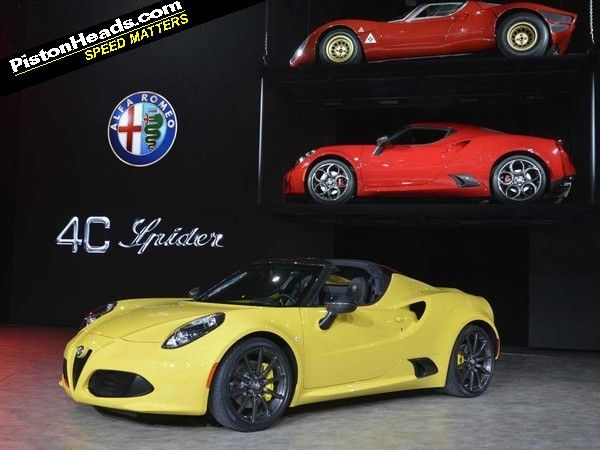 It's disheartening to read a few less than glowing UK reviews of the
Alfa 4C
. There was all that excitement, all that positivity on
the international launch
and then a car that didn't quite work on UK roads. But it's selling on the looks and there's still hope the set-up can be sorted.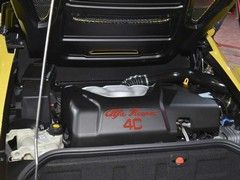 Same 240hp 1.75 turbo as the coupe
Imagine if this Spider does drive as well as it looks. Heck, imagine if it drives half as well as it looks. It would be damn good. Of course the advantage the 4C has in going from coupe to Spider is the carbon tub meaning structural stiffness isn't compromised. Indeed Alfa states engineers 'were able to minimise structural differences' between the two models. Note the carbon windscreen frame (bolted to the monocoque) for example. What you can't see are an aluminium rollover bar (under the black 'halo'), 'unique upper body brackets' and a strengthening beam across the engine bay. Shame that the clear engine cover has gone but we certainly won't be complaining about a paltry 10kg weight gain (in US spec) for the Spider.
The roof? Ah yes, about that. Alfa's press release isn't exactly filled with reams of info about the weather protection. We're told there's a 'removable, stowable cloth roof' with attachment points on the windscreen frame. A carbon hardtop is available too but it doesn't exactly sound like a TT or Boxster model of simplicity. Like the coupe it seems the Elise comparison is more fitting.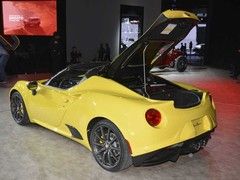 The roof? Why would you want to see the roof?
The Spider is mechanically near identical to the coupe. The only difference in fact is a new titanium Akrapovic exhaust with switchable modes and a resonator to "eliminate in-cabin droning." For those who want some drone there is a Racing exhaust available. The 240hp, 258lb ft 1.75-litre turbo and six-speed DCT remain.
That's all well and good, but a section of the press release does cause a little concern. The full European tech spec is to follow but American 4C Spiders are "designed with stiffer springs, larger front-and rear-anti-roll, and re-tuned shock absorbers." From those UK reviews it seems the last thing the 4C needed was more stiffness but let's reserve judgement until a drive. Hopefully in the sunshine.
Speaking of which, the Giallo paint seen here is a new addition to the paint palette and comes with accent stitching inside. Tobacco leather will be offered later this year FYI. Alfa says the cars will arrive in the UK this summer with full tech details and pricing to follow. With the coupe at £45,000 shall we say a nice round £50K?