The Ferrari 458 Monte Carlo has been confirmed ahead of its official debut at the IAA Frankfurt motor show. As the Ferrari 458 Speciale. And, following the traditions set down by the previous 360 Challenge Stradale and 430 Scuderia, adheres strictly to the template for Berlinetta-and-a-bit philosophy, with the standard 570hp 4.5-litre V8 boosted to 605hp, active aero, a 90kg weight saving, 0-62 in three dead and 0-125mph in 9.1 seconds.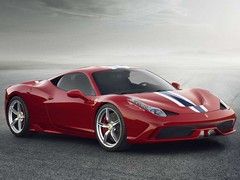 605hp and apparently active aero feature
It also gets the inevitable stripes, carbon embellishments, a stupidly loud exhaust (safe bet) and a suitably inflated price too (definite).
How much over the c. £180K base price for a 458 Italia? While saying it "would not confirm pricing" ahead of the Frankfurt unveiling a Ferrari spokesman told us "history would suggest this car will be approximately £25-30K over a standard car." Which is a roundabout way of saying it'll cost, give or take, £210K. Which actually doesn't sound bad, given the ease with which you could spec a standard 458 beyond this figure with a few titanium wheelnuts and other fancy upgrades.
There's no P1 versus LaFerrari dust-up looming with this car's debut but Lamborghini can usually be relied upon to make Ferrari work for its headlines and so it is at Frankfurt 2013. The 570hp, 1,340kg Gallardo LP570-4 Squadra Corse is a grumpy old bull being dragged out for one final turn in the ring but it's good to see that amid the German sausage fest that is Frankfurt the Italians can still make some noise.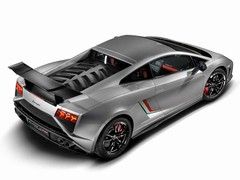 Gallardo Squadro Corse is Lambo's riposte
Noise is, of course, just what the Speciale promises from those two exhaust exits protruding from a rear valance festooned with mesh and carbon in the Challenge Stradale/Scuderia style. For all the track pretensions how long are you really going to last on circuit before being black flagged for noise? Realistically you'll be lucky to even make it on site but, hey, it'll sound good through the underpass at Hyde Park Corner, right?
Other track-honed features you'll be denied the opportunity of ever using in anger having tripped the noise meters 10 miles away from the track include 'movable aerodynamics', the implication being this is an active system and not a case of getting the allen keys out in the pit lane. Details, as yet, are not forthcoming.
Like the Scuderia's 'racing manettino' there are fresh electronic goodies specific to the Speciale to help you look heroic, even if you're actually not. Side Slip angle Control (SSC) "makes it easier to achieve car control on the limit, thereby greatly improving driving emotions" while new Michelin Pilot Cup Sport 2 tyres have been developed specifically alongside the Speciale. You can read the full press release here.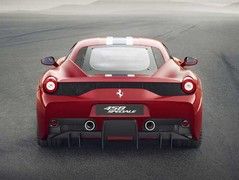 Speciale ditches F40-style triple exhaust
Against all that the Gallardo Squadra Corse looks a little wheezy and off the pace, the four tenths it loses to 62mph nothing against the 1.3 seconds it trails in the more significant 0-125mph sprint. Compared with other Ferraris, meanwhile, the Speciale takes a second and a half off the standard 458's Fiorano lap time and records a 1:23.5. That's still half a second slower than the F12 (and it's 0.6 of a second slower 0-125mph too) and some way off the sub-1:20 of LaFerrari. Family pecking order maintained then. Though, for reference, a 458 Challenge car will do it in 1:16.5, Ferrari insisting the Speciale's real USP is that it'll be able to maintain this kind of pace consistently over a number of laps.
Assuming you can find a track that'll let you run it.