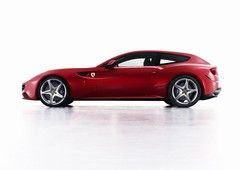 In what must count as the biggest automotive shock of the year so far, Ferrari has revealed a four-wheel-drive hatchback as a replacement for the 612 Scaglietti.
The new car is called the FF (sadly an acronym for Ferrari Four - four seats and four-wheel drive - rather than a tribute to the Jensen Interceptor) and gets a trick four-wheel-drive system - Ferrari's first.
Ferrari's patented 4RM (four-wheel drive) weighs 50 per cent less than a conventional four-wheel-drive system, while maintaining what Ferrari describes as perfect weight distribution (53 per cent over the rear axle). The four-wheel drive technology is completely integrated with the car's electronic dynamic control systems and (says Ferrari, at least) delivers record levels of performance on all terrains and in all conditions via 'continuous and intelligent predictive torque distribution to all four wheels'.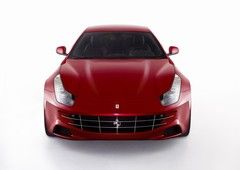 This being a 21st-century Ferrari, there's also a magnetorheological damping system (try saying that after a couple of tequilas), carbon-ceramic brakes and Ferrari's transaxle dual-clutch F1 gearbox.
Although the Pininfarina-designed body appears to have come from a brief that called for the adding of BMW M coupe and Reliant Scimitar genes into the Ferrari mix, and although the new 4x4 drivertrain is rather a departure from the norm, the FF sticks to its knitting with a V12 powerplant up front.
This new 6262cc direct-injection engine is good for 651bhp at 8000rpm and 504lb ft at 6000rpm, which will translate to 0-62mph in 3.7secs and a top speed of 209mph.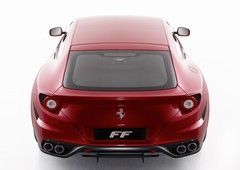 All of which sounds very Ferrari. What you don't usually expect Ferrari to say is that "owners will be able to enjoy the FF's prowess over a wide range of uses: city driving, on low grip or snow-covered surfaces and on the track". Nor do you expect a boot capacity of 450-800 litres in a V12 Ferrari...
The Ferrari FF will get its in-the-metal debut at the Geneva show in March. In the meantime, you can have your appetite whetted by Ferrari's rather wonderful promo video.
TECHNICAL SPECIFICATIONS
Engine
 
Type                
65-degree V12
Overall displacement     
6,262 cc
Maximum power       
660 CV @ 8,000 rpm
Maximum torque      
683 Nm @ 6,000 rpm
 
 
Dimensions and weight
 
Length                    
4907 mm
Width               
1953 mm
Height                    
1379 mm
Dry weight*               
1790 kg
Weight distribution       
47% front, 53% rear
Weight/power ratio        
2.7 kg/CV
 
 
Performance
 
Maximum speed       
335 km/h
0-100 km/h                
3.7 sec
 
 
Fuel consumption and emissions (ECE+EUDC)
Fuel consumption**        
15.4 l/100 km
Emissions**               
360 g/km
* European market version
** With HELE system