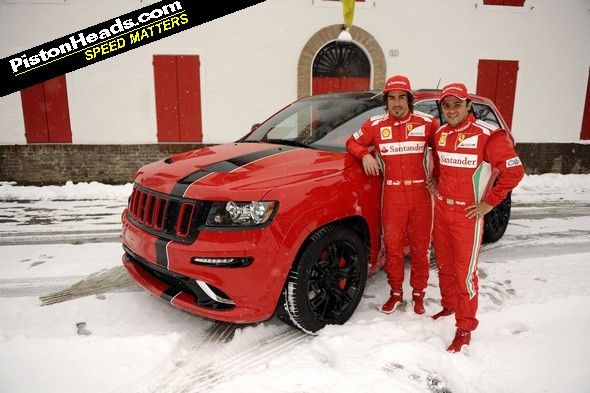 Alonso and Massa stand in front of their new 'ride'. Presumably to hide its hideousness
Aside from the cachet of simply driving for the greatest team in F1 history, being a Ferrari F1 driver has its fair share of perks.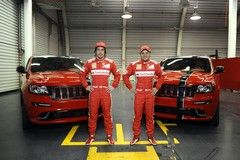 For example, during their time at the Scuderia, Fernando Alonso and Felipe Massa have been given their own 458 Italia, Maserati GranCabrio and (perhaps less glamorous) an Abarth 695 Tributo Ferrari each.
That's not a bad tally of cars. This year, however, the drivers have been given a 'unique' pair of Jeep Grand Cherokee SRT8s, the first two in Europe. Which are not quite so nice.
Yes, we understand that it's a fine opportunity for Fiat to emphasise the point that it now has its mitts on Chrysler (and therefore Jeep). And yes, a Jeep powered by a 6.4-litre Hemi V8 and capable of hitting 60mph in 5.0 seconds does have a certain appeal.
But why did they have to make it look like that?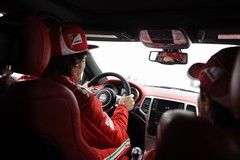 'That', for the record, is Rosso Corso paint, a black offset racing stripe, black roof, a matt black grille, carbon fibre trim and white accents. The ride height is also 40mm lower and the cars sit on unique forged and painted 20-inch alloys. Oh, and the interior has been decked out in red leather accents, and even Ferrari-esque yellow dials on the instruments.
We can only assume that this is actually a form of punishment, and that if Alonso and Massa had been able to win more than a single race last year they might each be sitting in a brand-new Ferrari FF...