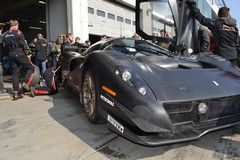 The Ferrari P4/5 Competizione, the one-off racer creation of wealthy Ferrari fan Jim Glickenhaus, has had its first run out on the Nurburgring.
The plucky independent outfit, which aims to take on the German big boys in the form of Porsche, Mercedes, BMW and Audi in the XP1 class at the Nurburgring 24 at the end of June, hit the Nordschleife for the first time last weekend.
By all accounts the test went well and, although driver Luca Cappellari's run was cut to one lap courtesy of a red flag, former F1 driver Mika Salo got a fair bit more bum-in-seat time with the Ferrari.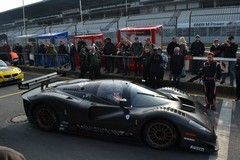 Well, we say Ferrari, but we shouldn't actually call it that. Because despite the fact that the car has been created from a
mélange
of a 430 Scuderia chassis and an F430 GT2 drivetrain, and despite the fact that it beutifully evokes the spirit of Ferrari's classic 1960s sports racers, it isn't an official Ferrari project. And Maranello doesn't approve of non-official Ferrari projects.
But whatever the folks over at the Prancing Horse think, we most certainly approve of the P4/5C. Take a look at the videos below and you'll see why.