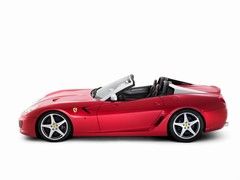 Ferrari is planning to create a super-exclusive 'collector's club' for its most dedicated and fanatical customers, with the intention of giving its most ardent fans (or at least the ones with sufficient money) a better opportunity to get hold of its limited-edition offerings.
"I don't want our faithful collectors to miss the opportunity to buy one of our special series," Ferrari boss Luca di Montezemolo told Automotive News Europe in an interview.
By faithful collectors, di Montezemolo means those who own at least five Ferraris - of which Maranello reckons there are about 300 (and by that we don't mean those with a couple of 308 GT4s, a Mondial, a Magnum PI special and a ropey 412). If the club should come to fruition, the plan would be to give first dibs on any limited-edition models that Ferrari produces.
The idea would be to avoid a repeat of the embarrassment caused over the Ferrari SA Aperta - the open-roofed version of the 599 - as some of Ferrari's more committed customers were apparently rather miffed at not being able to get hold of the 80-example, 400,000-euro special edition.
"The people who are building their collection - these are the people we want to look after," a UK Ferrari spokesman told PH. Reading between the lines, we presume this to mean that Ferrari wants to avoid (or at least limit the amount of) cash-happy speculators getting hold of their cars, and to keep its products firmly in the hands enthusiasts.
In addition, Ferrari is planning a 'cavalcade', an annual driving tour that Maranello hopes will give its customers a deeper knowledge of both the cars and the country they come from. The plan is to hold it in a different region of Italy every year, with additional trips to Fiorano and Mugello, and to open it up to 120 owners a time.