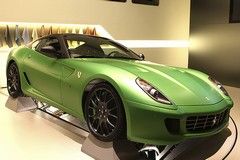 Generally speaking, company bosses - and particularly bosses of car manufacturers - are as efficient at answering an awkward question without answering it as any politician. Even when caught on the hop.
Not Ferrari president Luca di Montezemolo, however - he's a bit more forthright than that. And good on 'im, we say.
"You will never see a Ferrari electric because I don't believe in electric cars," he told Engadget. "I don't think they represent an important step forward for pollution or CO2 or the environment."
Hybrid Ferraris, on the other hand, no doubt using the technology first showcased just before the 2010 Geneva motor show, are high on di Montezemolo's agenda: "We are working very, very hard on the hybrid Ferrari. This should be the future, and I hope in a couple of years you can see it."