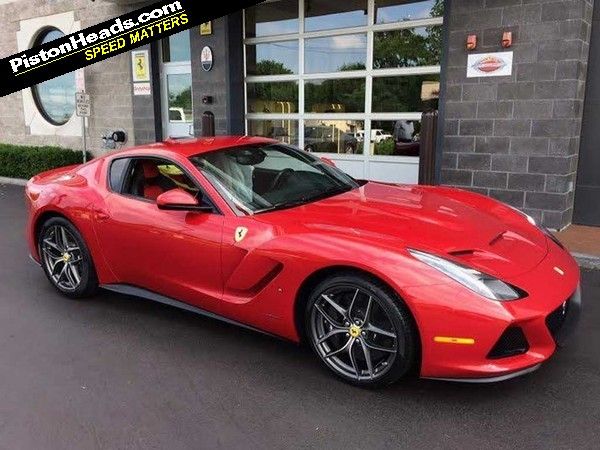 It seems for the super-wealthy, optioning your exotic Italian sports car to the hilt does not display the vastness of your financial reserves strongly enough. Which is why we're seeing a second one-off Ferrari in as many weeks.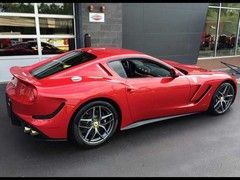 Well if an F12 isn't exclusive enough...
Hot on the heels of the
Ferrari F12 TRS
- which appeared at the 2014
Goodwood Festival of Speed
last weekend - another unique
F12
-based model has been spied.
Whereas the TRS drew inspiration from a 1957 250 Testa Rossa, with its chopped down aero screen, see through bonnet and lack of a roof, the SP America derives its design from probably the most iconic Ferrari ever: the 250 GTO.
Developed by Ferrari's Special Projects division for a US owner, the SP America's nod to the past comes in the form of three small bonnet vents - which apart from adding an aesthetic dimension probably also help cool the engine bay.
The slightly sketchy phone shots snapped outside the Spring Valley New York Ferrari dealer also show a power bulge in the centre of the bonnet, referencing the space required for the 250 GTO's six twin-choke downdraught Weber carbs, twin vents in the front wings, a ducktail rear spoiler and even more slashes in the rear bodywork.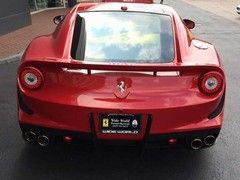 One TRS owner is very grumpy now
Classic 1960s design cues implemented on a modern car with a decent degree of success we reckon, just like the redesign for the TRS.
It's not yet clear if the SP America gets any mechanical modifications over the standard F12, but if the TRS is anything to go by it's unlikely.
That means there's still a 6.3-litre V12 out front, which still delivers 740hp to the rear-wheels via a seven-speed dual-clutch gearbox. It's therefore reasonable to expect the 0-62mph sprint will remain at 3.1 seconds, while the official "211mph-plus" top speed may be cut slightly due to the increased drag from the extra vents and that duck tail boot lip.
Fortunately enough for the American custodian, it's not as if the standard car was slow anyway.
[Source: The Supercar Kids]