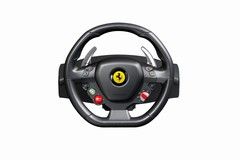 We know that a Ferrari 458 Italia is out of the price range of most, but you'll soon be able to have one occupying pride of place in your living room/games room/bedroom. Well, a steering wheel at least, courtesy of Thrustmaster.
With the blessing of Ferrari, Thrustmaster has created the first 458 Italia replica steering wheel for the Xbox 360, complete with a rubberized grip, built-in paddles and even the Manettino dial for changing certain game settings.
You also get a pedal kit with a long-stroke accelerator pedal, a resistant brake pedal and a wide footrest. Just like the real thing.
The new steering wheel goes on sale in the US in October, with an RRP of $180 (£110), though we don't know when it will reach these shores...