Motorsport matters. That was the impression received from Lamborghini during the Huracan GT3 press conference. The Super Trofeo one-make series has been especially well received since its launch in 2009 (who wouldn't want to race a Lamborghini against other Lamborghinis?) and now it wants to give GT3 a shot. Properly.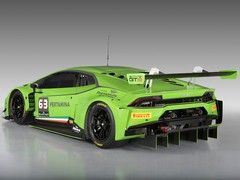 Well obviously there's green on the diffuser too
There have been Lamborghini racing cars
but this is the first developed by and for an official factory team. The Huracan GT3s will be run by Grasser, an Austrian outfit which has enjoyed success in the Super Trofeo and the Blancpain Sprint Series.
To the car then. There are two significant differences compared to the Huracan road car, the racer ditching four-wheel drive and actually producing less power at around 570hp. The final figure will be dependent on the FIA's Balance of Performance rules.
The 5.2-litre V10 is very similar to that found in the regular Huracan LP610-4, but with the dual-clutch 'box replaced by a six-speed sequential and a Bosch Motorsport ECU staying on top of the traction control, gearbox software, dash displays and so on. The brakes are steel (as stipulated by the rules), with 380mm discs and six-piston calipers at the front matched by 355mm discs and four-piston calipers behind. A kerbweight of 1,239kg is quoted, split 42:58 front to rear. It is also exceptionally green. And loud, as anyone else in the briefing will attest.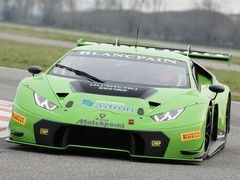 Watch out Bentley, Audi, Mercedes et al?
The racing talent will be provided by Lamborghini's Young Drivers Programme, with Giovanni Venturini, Jeroen Mul and Andrew Palmer in one of the Huracans. The other will see Fabio Babini, Adrian Zaugg and Mirko Bortolotti share the driving.
For plucky privateers who want to race a Huracan GT3, Lamborghini will sell them for 369,000 euros excluding taxes. You would if you could, right? With such commitment to motorsport you would have to hope a road car could be developed off the road car as well. Aston is doing it, and Porsche has made some half decent stuff badged 'GT3' as well... But just imagine it. A rear-wheel drive Huracan with a touch less weight, angry and ready to mess with Speciales. Wow.
Lamborghini is entering the GT3 into the Blancpain Endurance Series for 2015, with the season starting at Monza in April. Having watched the series at Spa and Monza, PH can vouch for it being excellent. V8 Bentley Continentals, V10 Audi R8s, 911s, Z4s, GT-Rs and SLS AMGs battling on some of the world's greatest tracks is a sight to behold. And now Lamborghini is getting involved. Should be spectacular.