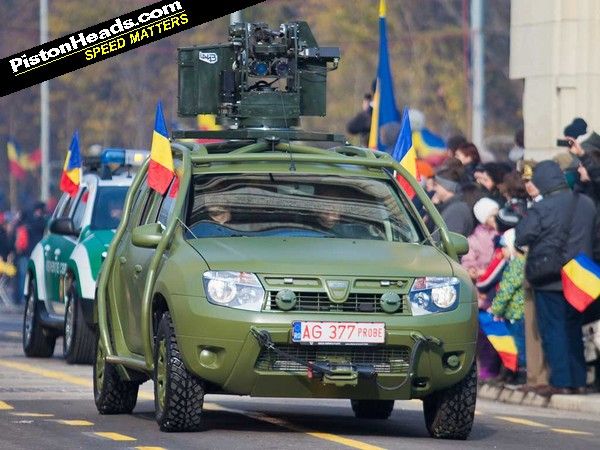 Grandiose military parades showing off the latest apocalyptic hardware were a staple of Warsaw Pact public celebrations at the height of the Cold War. North Korea aside, the days of parading your nuclear manhood through city centres have more or less passed and in this downsized, austerity era even displays of military might have adopted a more measured approach.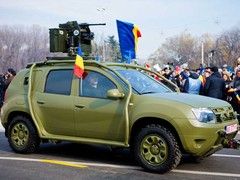 What's Romanian for 'feeling lucky, punk?'
Who better to carry this new ideology forward than Dacia, bargain brand of the moment and now builder of a variant of the popular (and
Harris approved
) Duster with a most unexpected optional extra. Probably not available to UK customers.
Yes, that's a remote control machine gun turret on the roof, the better for dealing with any troublesome fellow road users and rather more effective than the usual horn, raised fist or flashed lights, we'd imagine. Or, in our darker moments, would like to imagine...
Apparently built to NATO standards, the 'Duster Army' has underbody protection for engine, gearbox, fuel tank and rear differential, a winch, anchor points for aerial transport, interior lighting 'black out' and what are described as 'camouflage headlights' in our Google translation of the Romanian language Dacia homepage. The small matter of a machine gun on the roof is tactfully avoided but there's no hiding the fact this is a Duster armed with more than back to basics charm and an attractive pricetag.
[Sources: Dacia Group, AutoEvolution]