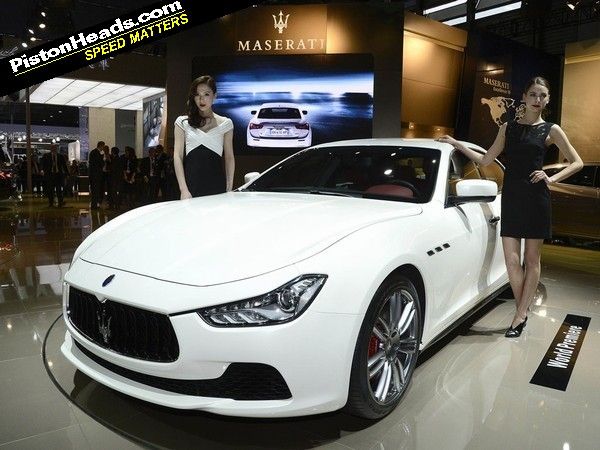 Thanks to the wonder of the internet we already knew what
the Maserati Ghibli
was going to look like before the covers were removed on Saturday at
the Shanghai show
. But now the car has been officially unveiled there's a lot more information about what's going on under the skin too.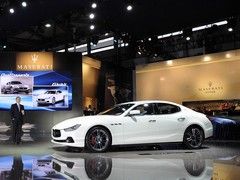 We've seen the leaked pics - here it is for real
Fears of a sell-out branding exercise to milk the Maserati name in an effort to hit those 50,000 sales per year they keep banging on about should be calmed a little too. First there's Maserati's insistence that the Ghibli - 29cm shorter than
the Quattroporte
overall and 20cm shorter in wheelbase - will have "a more-focused, sportier philosophy", underpinned by an engine range that features two all-new twin-turbo V6s and a similarly clean-sheet V6 diesel. All come with mechanical limited-slip diffs as standard and even the diesel will hit 0-62mph in 6.3 seconds, and has 275hp and 442lb ft of torque. An
XF Diesel S
, also with 275hp, is four tenths faster but it's not a bad effort given this is Maserati's first ever diesel.
The 3.0-litre twin-turbo petrol engines, built in Maranello by Ferrari, will come in 330hp and 410hp S tune and both are closely related to the V8 in the Quattroporte, sharing block architecture, manifold design and bore among other things.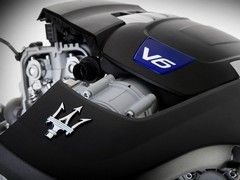 Modular V6 based on Quattroporte's V8
Even the diesel gets Maserati's Active Sound system which uses 'sound actuators' in the exhaust system that "accentuate the engine's most distinctive tones" and become "even more resonant and utterly inspiring" when you press the Sport button. If you were hoping for a classically blood curdling Italian soundtrack you may be disappointed though - they may be built by Ferrari but even the petrol V6s are torque-biased sluggers redlined at 6,500rpm and delivering their peak twist from 1,750rpm. They're not slow though, the 330hp version hitting 0-62 in 5.6 seconds and the 410hp S in five dead. Nor is it hamstrung by the German brands' deference to the 155mph limiter, topping out at 177mph.
Right-hand drive cars will all be rear-driven, other markets getting the option of Maserati's Q4 four-wheel drive system which sends power forward from a default 0:100 rearward bias to 50:50 when needed. In all cases ZF's eight-speed handles shifting duties.
If you discount the mainstream German saloon rivals as a bit stodgy and staid, the Ghibli's natural competition would be led by the Jaguar XF and the newly refreshed Porsche Panamera (also unveiled in Shanghai with a new 420hp downsized twin-turbo V6, entirely coincidentally...), with 'coupaloons' like the Mercedes CLS,BMW 6 Series Gran Coupe and Audi A7 also featuring on the shortlist. The Maserati badge carries more romance than any of those and that, for many, would be enough on its own combined with some suitably sexy bodywork. That the mechanical spec sounds so convincing too should have these established equivalents looking distinctly nervous, depending on where Maserati chooses to pitch the price.
Suddenly that near-tenfold increase in sales doesn't seem like such a daft boast after all.