Well this is rather clever timing from SEAT. The week after the world's media have descended on the Paris show and got themselves all giddy about the
ST test mule once more. Y'know, just a reminder that the Cupra is still around.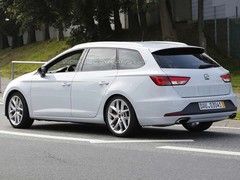 The fastest way to Ikea. Apart from an RS6
The fastest Leon load-lugger was expected to be seen at Paris with its
relative. With both a no show, Geneva next year now seems like the most likely debut location.
The ST's spec should mirror that of the hatch exactly. Given the 265 is only available over here a three-door manual it may be that the estate only uses the 280 powertrain though. We'll have to wait and see for confirmation on that. But the VAQ 'diff' and adaptive dampers will surely make the transition across.
Unsurprisingly too the visual makeover for the estate is subtle. This car isn't production spec remember (see the FR badges and wheels) but the twin exhausts and red calipers are already there. The finished car should look a little racier. Perhaps this is the model to have yellow reintroduced? Maybe.
The obvious competition for the Cupra estate will be the recently revised Focus ST wagon. Other than that, it's a fairly quiet little market sector. A niche then, but one we're very glad exists.