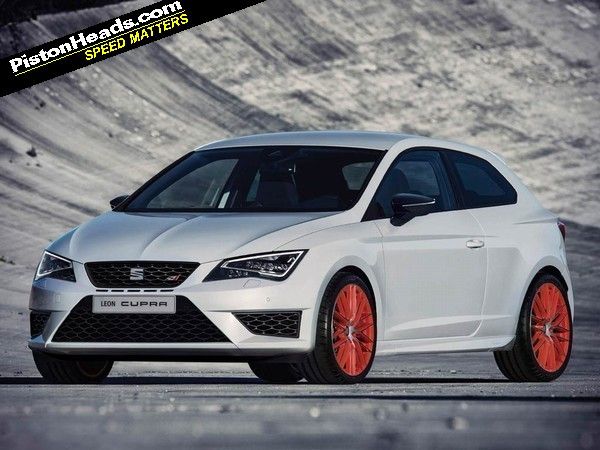 Hang on, you may be thinking. That's the 'regular'
Leon Cupra Performance Pack
, the car we heard about last year, that nobody has actually driven yet but that customers have ordered. But it's different. This is the 'Ultimate Sub8 Performance Pack', a car that reputedly mirrors "the exact specification" of the 7:58
'ring record car
, meaning there probably won't be a Mega Ultimate Sub8 Performance Pack any time soon. What a shame.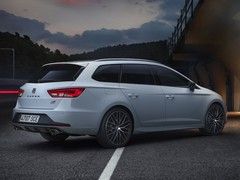 Ultimate pack only on three-door. Boo!
So on top of the Performance Pack's bigger brakes, Brembo calipers and lighter wheels, the Ultimate adds (if that's the correct word) a series of weight saving measures. So the climate control has gone, replaced by a "simpler heating system" but with no kilogram saving stated. Four of the eight speakers have been removed as well, plus the centre console armrest and rear air vents. How will poor buyers cope with such abject sparseness?
Jokes aside, SEAT is keen to stress the everyday usability of the Leon, indeed asserting it "is no impractical track day toy." Wonder which rival they could be thinking of there? The rest of the Leon Cupra's standard equipment (what is there left without the armrest and the air vents?) remains, including the Dynamic Chassis Control dampers, cruise control, sat-nav and DAB.
The price? The Ultimate costs £4,200 on top of the £27,210 for a Leon Cupra SC 280. Sort of. Don't forget the £460 for Michelin Pilot Sport Cup 2s. And there's the option of DSG too if you want. And that's everything. Really. So it's £31,870 for a manual with the tyres. SEAT has said each Ultimate will be built to order with no exact production numbers confirmed. You suspect quite a few customers with a regular Performance Pack on order will be after one! Should an Ultimate ever actually arrive in the UK, we will endeavour to get our hands on it PDQ. And head to the Eifel region, armed with a stop watch.