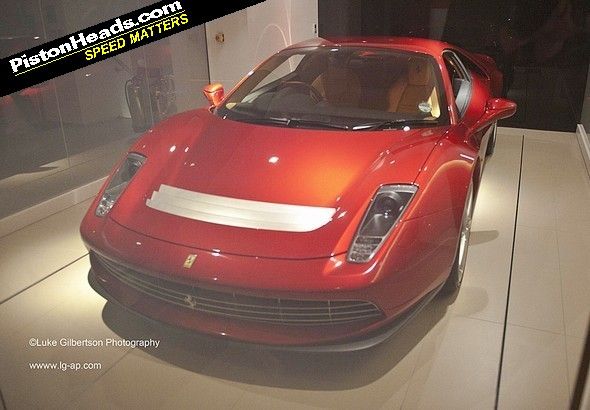 Is it a bird? Is it a plane? Well, obviously not, but it does appear to be a very special custom-built Ferrari.
Sadly these shots, snapped at a launch party for the 458 Spider at London Ferrari dealer HR Owen last night, do not show an all-new model. Instead they reveal a bespoke creation, apparently commissioned by Ferrari fiend Eric Clapton.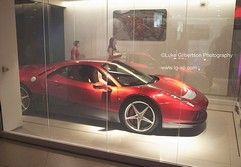 Clearly the car, which some are calling the SP12 EPC - although that could be the registration plate, the actual name, or possibly both - is an evocation of the classic 512BB from the 70s. But any other details are pretty scarce. Especially since a quick call to Ferrari confirmed merely that Maranello 'wishes to respect the privacy of its clients' and therefore doesn't pas comment on its one-off projects unless specifically asked to.
Judging by the car's stance and interior, however, we'd take a punt on it being a 458 Italia underneath its pseudo 70s robes - more than likely with the same V8 drivetrain in situ.
UPDATE:
Having found the reg on the DVLA database, we can confirm that it is a V8, registered on 1st March (so as to get the 12-plate number).
Having done a little digging, we can also reveal that SP12 is likely to be the name of the model, SP denoting Special Projects and the 12 a nod to Clapton's known fondness for 12-cylinder Ferraris. The underpinnings will, however, be straight from a 458, as Ferrari's bespoke programme doesn't go so far as to tmaper too much with existing platforms.
As for how much this little beauty cost, the answer is likely to be a heck of a lot. You do get all the tooling for your car thrown in with the deal (so that Ferrari can never build another), but the price can be price could be astronomical even considering that - for example bespoke paint for brake calipers can cost as much as 300,000 euros (we kid you not)...
Thanks to PHer Luke Gilbertson for the pics - you can see more on his Flickr account here