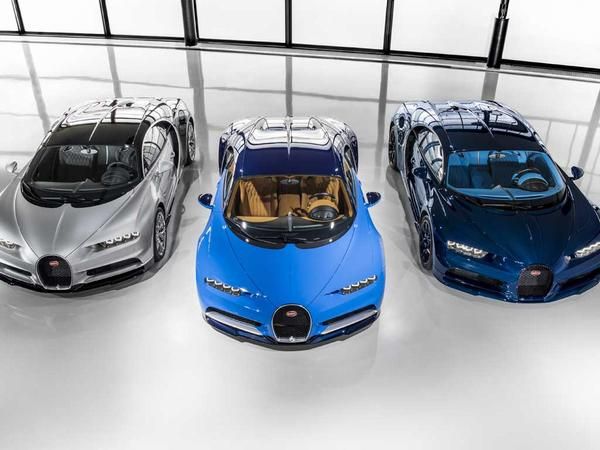 In a press release best described as a polite clearing of the throat ahead of next week's Geneva show Bugatti has
released a video
celebrating the departure of the first production Chirons from its Molsheim 'Atelier'. You can perhaps understand why - with the world's supercar buying elite dusting off their best tailored sports jackets, expensive timepieces and posh loafers ready for the show Bugatti will be keen to remind them it's still the daddy in this game.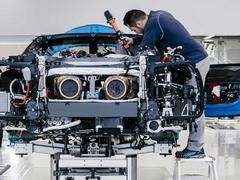 Are those afterburners?
Lest we forget, the
production Chiron
was formally unveiled a year ago at the same show and Bugatti is promising "a further customer vehicle" for its stand this year. The first of a range of increasingly ostentatious one-off special editions in the mould of the Veyron? We'll see.
For now the first cars off the line are Chiron1series models with the entry level spec of a 1,500hp quad-turbo 8.0-litre W16 motor. Two-stage turbocharging means its 1,180lb ft of torque is there from 2,000rpm to 6,000rpm and there's the 261mph top speed present and correct to triumph in any key fob measuring contests you might be having with your hypercar owning mates.
From the moment you lay down your 2.4m euros (before options) and pull the trigger on the preferred spec construction of your Chiron takes six months of painstaking assembly by Molsheim's specialist technicians. A taste of that is shown in the video, including the 'mating' of the 628kg powertrain and the the carbon monocoque. With the rear body built around the engine and gearbox the two sections are joined by 14 titanium bolts, each weighing just 34g. Each stage requires suitably time-consuming quality control, mainly involving being fondled by a white-gloved Frenchmanm if the video is anything to go by.
Bugatti expects to build Chirons at the rate of 70 per year, these first three cars featured in the video now on their way to owners in Europe and the Middle East.