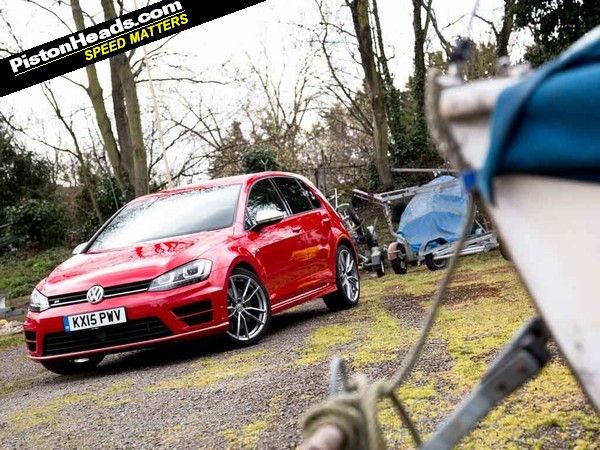 There's simply no escaping the Golf R at the moment. Whether it's a group test, a car of the year feature or, dare we say it, a leasing thread, the flagship Golf has been making quite a name for itself. Quick, composed and classy (or should that be classless?), it appears to be all the hot hatch you could ever need.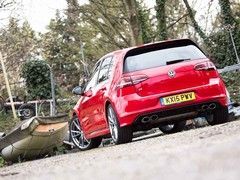 See, look - definitely not blue
Similarly to the
BMW M135i
in fact, whose £30K glory the Golf has rather usurped, it can be considered in so many potential buying decisions. Now we have six months to discover just how good the fastest Golf has become - it seems nary a bad word has been said against it just yet. Well, apart from Dan's
PH road test
...
Surprise number one: it isn't blue. Despite what internet rumours may suggest, other colours are available. We're told this is the only Tornado Red Golf R on the press fleet, and rather sharp it looks too. The appearance is no doubt helped by the 19-inch 'Pretoria' alloys, an additional £895 over the standard 18s but arguably worth it given how plain the regular wheels are. And besides, blue is £540 and we've saved that by opting for the only standard colour.
KX15 PWV is a five-door DSG Golf R, much to the glee of the MaxiCosi huffing dads on the PH staff and one that will make an interesting comparison with our three-door manual Leon Cupra 280. Just in case that car needed its job made any harder... As for the other options, we have the Discover Pro sat nav (£1,765), the £815 Dynamic Chassis Control dampers (standard on a £25K Leon, it should be noted), the Winter Pack and a couple of other bits. We don't have a full spec yet but even with those it's up above £35K. At least nobody can say "you could have Golf R for that much!" in this thread...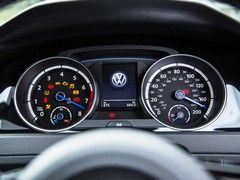 Blimey, it is quick
First impressions are, predictably and annoyingly, very good. The R is one of those vehicles that will impress many on a short test drive. It looks cool, the interior is excellent (the seat and wheel in particular are great) and it will go very fast with the minimum of fuss. It is, for want of a better phrase, just like a Golf but a little more exciting. Is there deep-seated substance behind the VW style? And can it prove charming in a way VW Group cars so often fail to?
With less than 1,000 miles on the odo, it's impossible to tell just yet. There is plenty planned to ensure it's a rigorous long-term evaluation though. It will have to be tested against that BMW 1 Series, plus the soon-to-depart Leon Cupra and the imminent Golf R estate. Then of course there's just driving the thing, from B-road to track to daily commute, to see just where the Golf R really ranks in the hot hatch hierarchy. The wing of Dan's WRX STI looms menacingly too. Should be an interesting few months.

---
FACT SHEET
Car: 2015 Volkswagen Golf R
Run by: Everyone's having a go!
On fleet since: March 2015
Mileage: 924
List price new: £32,220 (£36,055 as tested including £895 for 19-inch 'Pretoria' wheels, £1,765 for Discover Pro Nav, £815 for Dynamic Chassis Control dampers and £360 for Winter Pack).
Last month at a glance: A Golf R arrives and it isn't blue. Really.
[Pics: Ben Lowden]