You have to admire the German style of humour. First Audi lures us into a false sense of apathy with the reveal of
. Then, during the lavish and mildly bonkers Volkswagen Group evening on the eve of the 2014 Geneva Motor Show, it promises "treats" in the morning.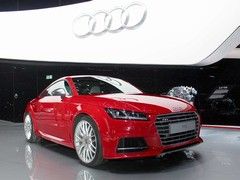 Bit predictable we said; response wasn't
But credit where credit's due - the Audi TT Quattro Sport Concept is quite the treat. Remember how people used to label the TT as a hairdresser's car? Not anymore. Within seconds of Audi revealing the show car, the TT shook off its soft image and revealed its hardcore side.
The snappily named Audi TT Quattro Sport Concept has 210hp per litre, which is a figure more suited to an Audi Le Mans car. Audi's wizards have performed miracles, extracting a total of 420 horses from a relatively tame 2.0-litre TFSI engine. Peak torque of 331lb ft is available all the way from 2,400rpm to 6,300rpm.
Insert skin and rice pudding sentence here.
Weighing 1,344kg, the Audi TT Quattro Sport Concept will rocket to 62mph in a distinctly non-hairdresser like 3.7 seconds. Audi hasn't confirmed the top speed, but we suspect it'll be limited to 155mph to stop it from being catapulted into the middle of next week. Audi calls it "an extreme driving machine for the motorsports enthusiasts", and it isn't wrong. The interior will feel quite alien to the typical TT buyer, with almost everything but the essentials stripped away. Which means no speakers or armrests, and the door handles replaced with strips of Alcantara.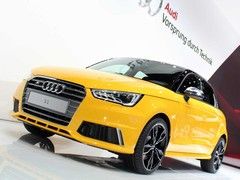 Audi enters the hot hatch fray as only it can - Quattro!
There's also a pair of hardcore racing seats, 20-inch alloy wheels, a suitably stiffened suspension set-up and a set of wheel arches extended by 30mm. Aside from the digital infotainment system, we were struggling to get excited about the new TT. But all that has changed.
Otherwise it was business as usual on the Audi stand. Oh, and the small matter of a glorious Audi RS2 and that little tearaway, the Audi S1.