Typically when a test mule is seen hacking round the Nurburgring there's a great deal of conjecture about what it might be. Is it testing that engine? Does it have this gearbox? What on earth even is it?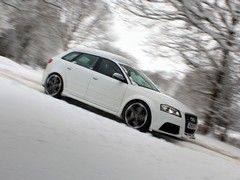 Charismatic yes, but a little inert
But there's less difficulty in deducing what this Audi is. It's an A3 Sportback very clearly powered by a five-cylinder engine with a DSG gearbox also plain to hear. This is the Audi RS3 replacement. Furthermore, given the LA show organisers have confirmed three global Audi debuts in November, we might not be far away from seeing the finished car.
The previous RS3 always struggled for being based on a such an old design. Dan enjoyed it during a slushy winter, Harris was less keen in a comparison against that BMW. The drivetrain was praised universally though, despite the effect its location had on the handling balance.
From this video it sounds like the five cylinder turbo/DSG combo will continue. But now with a new platform and the S3 having impressed recently, there could well be a dynamically adept Audi super hatch on the way. With the S3 having jumped from 265 to 300hp in this generation, is it reasonable to expect a similar gain for the RS? The last car made 340hp so over 350 seems likely.
The LA debut isn't confirmed yet so we may have to wait until 2015 to see the RS3. But, dare we say it, there's potentially quite a lot to be excited about with a fast Audi.