Proud of your ability to rattle off Nurburgring corner names without a crib sheet? You need to add a new one to your mental checklist now, Stefan Bellof's
and his legendary status earning him deserved ownership of one of the Nordschleife's bends.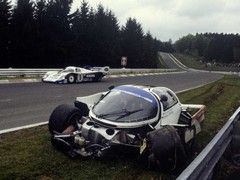 Bellof's wrecked 956 at the corner now with his name
And own it he did. And knowing the way the Nurburgring operates his estate is probably still being chased for the Armco bill following his spectacular crash on the section of track that now bears his name. Previously known as 'Pflanzgarten three', 'the bit after the jump' or 'did I just leave my sump behind there?', the Stefan Bellof S as it's now officially titled is an appropriately terrifying section of track that occurs late in the lap just as you're starting to think 'yep, got this one in the bag safely...'
Bellof hadn't, punting the 956 he was sharing with Derek Bell in the 1983 Nurburgring 1000km backwards into the Armco after what was by all accounts a spectacular flip. This the day after setting that 6min11sec lap in qualifying, Bellof coolly climbing out of the wreckage to sign a few autographs as the race continued. Just in case you were wondering why he's considered a legend.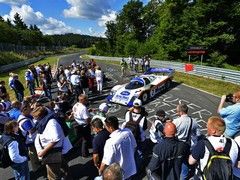 Team-mate Bell drove 956 to naming ceremony
To celebrate the naming of the corner Bell himself returned to the 'ring with the 956, driving a lap before pausing at the corner for a dedication ceremony with Bellof's family and friends.
A long overdue tribute, many would agree, but one put right in suitably appropriate style with the sight of a Rothmans 956 once again lapping the 'ring with Bellof's team-mate at the wheel. An exhibition dedicated to Bellof can also be seen at the Ring Werk.