News of of BMW's 'i' EV sub-brand has been circulating for a while now, or so it seems. There have been spy shots,
; now we have the list of dealers that will sell and service the new range of electric BMWs.
The list comprises 46 BMW retailers, from Jacksons Jersey to John Clark Aberdeen. The first showroom, BMW Park Lane, currently has an i3 city car on display. It will go on sale later this year, with the i8 range-extender supercar due in 2014.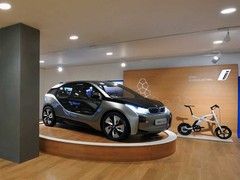 i3 in electric or range-extender forms
BMW calls the i3 a 'megacity' vehicle, and it will be offered with a choice of pure EV or range-extender powertrains. The electric motor in both is an evolution of that seen in the
, producing 170hp and 184lb ft. Power goes to the rear wheels (it's still a BMW, after all) through a fixed-gear transmission. Performance up to its 93mph top speed should rival junior hot hatches; carbon fibre allows for a fairly lithe 1,250kg kerb weight, and 0-62mph is completed in 7.2 seconds.
Like their combustion-engined counterparts, relying on the official range figures will only lead to disappointment with BMW's electric vehicles. So whilst the i3's NEDC total is 140 miles, BMW is claiming an everyday figure of between 80 and 100 miles. Harvesting kinetic energy whilst driving will provide some battery replenishment, and a full charge through a conventional plug will take six hours. An optional quick charger promises to restore 80 per cent of the battery pack's energy in 30 minutes.
To alleviate range anxiety worries, the range-extender i3 will use a BMW motorbike engine as a generator for the electric motor. The 650cc engine is predicted to double the real world range to around 200 miles.
Initial estimates suggest the i3 will cost around £35,000 in all-electric form or £38,000 as a range-extender. Whilst the Vauxhall Ampera is perhaps the i3 range-extender's nearest conceptual rival, it lacks the performance or advanced materials of the BMW. Its perhaps also worth noting a Nissan Leaf offers a similar range at nearly half the price of an i3.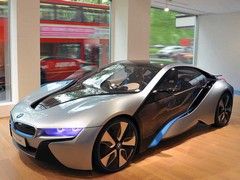 We've already ridden in the i8 - and been sideways!
The halo model of the 'i' brand, the i8 promises all the excitement of a conventional sports car with comparatively minuscule running costs. Its combustion engine is a 1.5-litre three-cylinder turbo, set to feature in the next Mini Cooper S, making 223hp and 221lb ft. Allied to a pair of electric motors, the i8's total outputs are 354hp and 406lb ft. The majority of the electric power comes from the front-mounted motor, with the rear system acting mainly as generator/alternator.
The 4WD i8 is claimed to hit 62mph in 4.6 seconds whilst also offering an all-electric range of 20 miles. A kerb weight of 1,480kg gives the i8 a power-to-weight ratio of 239hp per tonne, near identical to a Jaguar F-Type V6 S.
So far, so promising. But there's a price to pay for BMW's innovation and it's the, er, price. The i8 is likely to cost around £100,000, placing it above BMW's own M6 as well as the Audi R8 V8 and 911 Carrera 4 S. Will prospective buyers be willing to embrace new technology for a premium over such talented conventional rivals?
Well, according to BMW, it has more than 6,000 customers interested in the i models. This certainly bodes well for when the i3 and i8 reach showrooms, and will reassure BMW to an extent on the validity of its EV gamble. You only have to look at Renault's relative lack of success so far with its EV programme for evidence of frosty customer reception to electric cars.
However, the allure of a blue and white roundel on the nose may encourage a few more doubters. With the 46 confirmed dealers also capable of repairing battery damage and BMW promising to expands its EV service network, the infrastructure is coming into place. The i8 in particular offers something genuinely fresh to the performance car market, and it will be fascinating to witness how it is received.