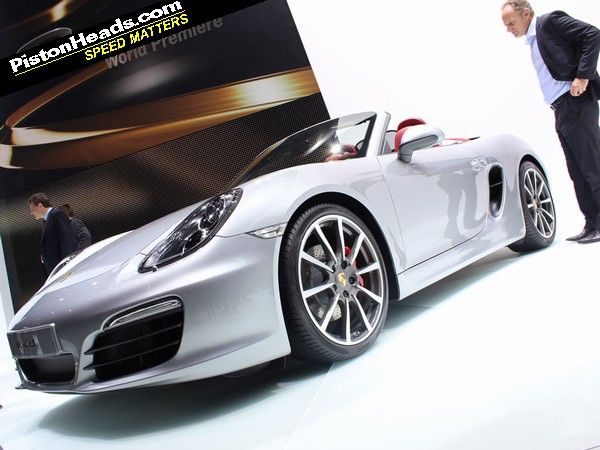 With a
well-specced 991 Carrera
now nudging £100K
an all-new Boxster
looks like an even more appealing choice, this third-gen version – as before – lifting much from its 911 big brother. With a sub-£40K starting price half as much.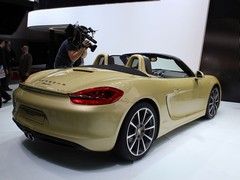 Carrera GT/918 Spyder influence obvious
It's got a stronger identity of its own this time round though, those big side vents giving it a distinctively mid-engined stance while the neat, integrated spoiler at the back adds a bit of pertness. There are definite hints of
918 Spyder
in the lights and flanks too. No bad thing there either.
Our man Harris will be driving the car before the week is out and, for a man you might assume doesn't get out of bed for anything less than a GT3, appears to be 'very excited.'
Well he might be too because while Lambo and Ferrari cater to extremes of wealth, performance and size anxiety the Boxster is very much a sports car for our times. Downsizing means a return to the 2.7-litre displacement of old, now direct injected of course, and a 3.4-litre S, both returning solid mid 30s official mpgs with the PDK gearbox. The 2.7 is good for 265hp, the S 315hp and Porsche claims a typical weight saving of around 35kg. Time to dust off the inevitable 'ring lap time and, for the record, the S will do it in 7:58, 12 seconds faster than the outgoing car and, according to our Porsche man, similar pace to the 996 GT3.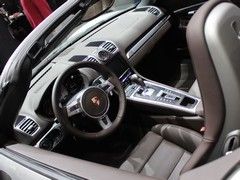 Interior influenced by new 911
Though the 991 influence is clear – electric steering included – the manual option remains a six-speed rather than
the seven of the 911.
The rising centre console – originally inspired by the Carrera GT and introduced to mainstream Porsches by the Panamera, Cayenne and now 911 – also carries through to the new Boxster while the roof – now one-touch, power operated – is faster than before. No excuses for not dropping it at every opportunity then.