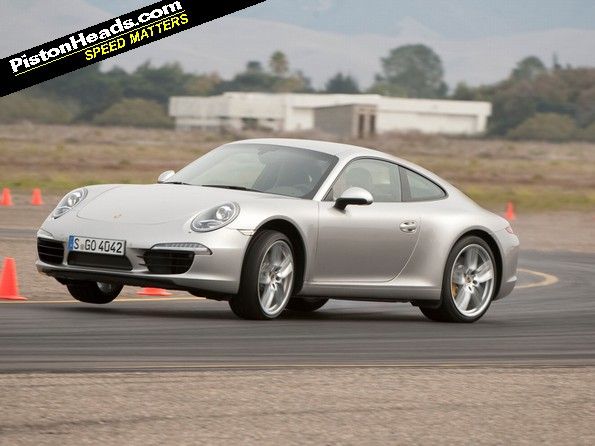 As you may have gathered, the
all new 991 generation Porsche 911
is a rather complex beast, not least when it comes to understanding all the tech and how it all relates to each other. And what's standard and what's not.
So, let's start with the vanilla Porsche 911 Carrera. This starts at £71,449 and uses a new 3.4-litre flat-six with 350hp. 0-62mph in the manual takes 4.8 seconds, dropping to 4.6 seconds with PDK (£2,387) and 4.4 seconds on the latter with the £1,084 Sport Chrono pack. Top speed is 179mph. All cars get the new Sound Symposer, switchable via the Sport button.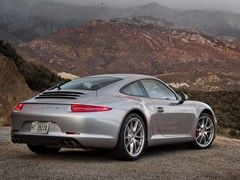 Your basic 911 Carrera? This isn't it
So there's your basic 911. To which you can add, in no particular order, Porsche Torque Vectoring (PTV) for £890 - familiar technology from the previous Turbo but now available even on the Carrera and fitted in conjunction with a limited-slip diff. If you've already chosen PDK your choice is PTV Plus (£1,012) with a more sophisticated electronically controlled locking diff. PASM dampers (£1,133) are another familiar technology and will be available in two configurations. The first drops the car by 10mm while the PASM 'sports suspension' (£1,691), with an aero package that includes a variable rear wing, drops the car 20mm but you need to have ticked the boxes for 20-inch wheels (£971) and PTV to qualify.
Sport Chrono, as mentioned, includes launch control on the PDK and, new for the 991, GT3 style active engine mounts.
By the time you've added all this lot to your Carrera you're probably looking at a somewhat ludicrous price tag. So you might be better off starting with the £81,242 Carrera S instead. It uses the familiar 3.8-litre engine and now develops 400hp, cutting the 0-62mph time to 4.5 seconds with the manual, 4.3 seconds with PDK and just 4.1 seconds with PDK and Sports Chrono.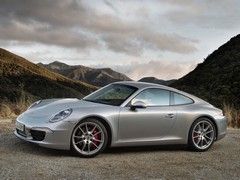 Porsche in 'charging lots for extras' shocker
But the standard spec also includes 20-inch wheels, PASM and the regular PTV torque vectoring and limited-slip diff set-up. If you want a more extreme set-up you can still go for the PASM sports suspension too but it costs a more reasonable £558 on the S. Exclusive to the S you can also add the Porsche Dynamic Chassis Control (PDCC) active anti-roll bar system for £2,185, or you can bundle it with the PASM sports suspension for £2,744. Though the acronym is carried over from the Panamera and Cayenne and it achieves the same aim it's, technically speaking, a completely different system.
The switchable sports exhaust is also available on both models and comes heartily recommended! £1,772 very well spent. Other common options include the Power Steering Plus (£178) that reduces the weighting for parking manoeuvres and at low speeds and, of course, PCCB ceramic brakes (£5,787) with trademark yellow calipers. Beware if you're choosing PDK too - unless you opt for the £283 Sport Design steering wheel you won't get paddle shifters but the daft, two-way buttons instead.
In true Porsche fashion the potential for inflating that base price by a significant margin is present and correct, your friendly dealer no doubt happy to discuss how many acronyms and zeros you want adding to your spec sheet come order time. The least you can expect is a nice coffee as he does so.
Offsetting that is the fact your new 911 will use considerably less fuel, the standard, start-stop equipped Carrera achieving 31.4mpg with the manual and 34.4mpg with PDK, the latter helped by the new coasting function. Emissions are 212g/km and 194g/km respectively. To give you an idea of the efficiency savings the previous 3.6 would do 27.4mpg (28.8mpg PDK) and 242g/km (230g/km PDK). The S manages 29.7mpg manual and 32.5mpg with PDK, CO2 coming in at 224g/km and 204g/km respectively. Impressive numbers for a 400hp, 188mph car.
Clear as mud then? Here to help! For more info check out the Porsche configuratoron the customer website with the new to 991 3D viewing option. First one to 'build' a £100K Carrera wins!*
*Actually you don't but let us know anyway.