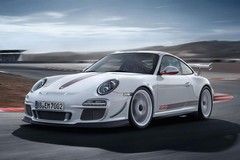 Porsche has finally revealed to the world the car that we all knew was coming - the limited-edition 911 GT3 RS 4.0 - after weeks of
fairly fevered speculation about the new hardcore GT3 RS
.
As the name implies, the new car has an engine bored out by 200cc to 4.0 litres, and has a crankshaft lifted straight from the 911 GT3 RSR racer. The result is the largest 911 motor ever, and 500hp at 8250rpm and 339lb fit of torque. For those not all that sharp at mental arithmetic that's 125hp per litre - a pretty stunning figure for a naturally aspirated engine.
The GT3 RS 4.0, working solely via a six-speed manual gearchange, can manage the sprint from 0-62mph in 3.9secs and to 124mph in 12.0secs, while it eventually runs out of shove at 193mph. That's just 0.1secs faster than the 'regular' GT3 RS to 62mph, but a whole 1.3secs quicker to 124mph - although it is worth pointing out that both the gearing and aero can be tweaked on the new car, thus changing those figures.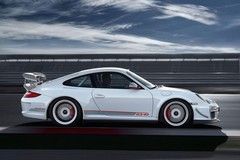 Oh and it wouldn't be a performance Porsche story without a spot of Nurburgring bragging - 7m 27s if you're interested.
In order to, as Porsche puts it, 'best exploit the increased power', the chassis settings of the new car have been revised. This includes the set-up of the Porsche Active Suspension Management (PASM), and the rear axle now features additional ball-joints for greater adaptability.
Extensive weight-saving tactics have also been employed, including lightweight seats, a carbon bonnet and front wings, plastic rear windows and - intriguingly - 'weight-optimised' carpets. The overall weight is 1360kg. Mind you, despite those lighter carpets, that's only a saving of 10kg over the GT3 RS.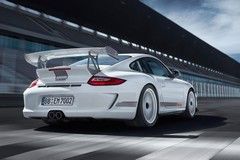 The aerodynamic tweaks are pretty extensive, too. As well as the massive rear wing, there are lateral front air deflection vanes, or 'flics', which make their first appearance on a production Porsche and which contribute to an additional 190kg of downforce at top speed (we recommend that you don't test this out on the M25).
The GT3 RS 4.0 comes in white or - er - white, while inside the carbon fibre seats are covered in black leather/red Alcantara with 'RS 4.0' in red on the headrests, while various other surfaces also get red stitching Alcantara, and RS 4.0 logos. The Clubsport package - half roll cage, seat belt harnesses, fire extinguisher, and battery cut-off switch - is also standard.
Just 600 examples of the GT3 RS 4.0 will be made, and will be on sale from July at £128,466.