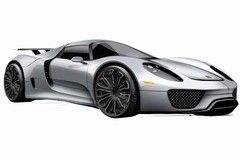 Porsche has today opened the order book for its new 918 Spyder hybrid supercar - and set the price at 645,000 euros (£563k) plus VAT and local taxes.
The first cars will be delivered to customers in November 2013, and those lucky enough to be able to afford one will have netted themselves a supercar with a 200mph top speed and an ability to sprint from 0-62mph in 3.2secs, and yet that can also deliver 94mpg on the official combined cycle and emits just 70g/km of CO2.
These apparently contradictory achievements come courtesy of a 4.0-litre V8 (derived from the unit in the old RS Spyder LMP2 car) petrol engine that develops more than 500hp, and a pair of electric motors that supplement this with an extra 218hp.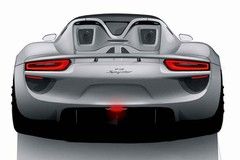 Transmission to the rear wheels from the engine is via a seven-speed Doppelkupplungsgetriebe (PDK) gearbox, while one electric motor is connected to the front axle and one to the rear.
Unlike the concept car, the production version of the two-seater, based on a carbon fibre-reinforced plastic monocoque, features a manual roof system with removable roof panels that can be stowed in the front luggage compartment.
The liquid-cooled lithium-ion battery can be charged from a conventional domestic power socket, and delivers a range of around 16 miles on purely electric power. The charging time depends on the country-specific mains network, but is approximately three hours from a 230v domestic power supply. The top speed on purely electric power is 150 km/h (94 mph).
In other news...Porsche Turns 911 turbo into 918 Spyder (sort of):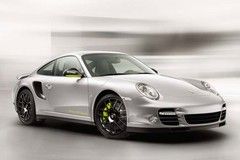 In addition top the 918 918 Spyders planned for production Porsche is, bizarrely, offering every customer placing an order the 'exclusive opportunity' to acquire a 911 Turbo S '918 Spyder Edition'.
Also limited to 918 units, the new 911 Turbo S '918 Spyder Edition' is based on the 530hp 911 Turbo S, but is 'inspired' by the 918 Spyder. This includes acid green features such as part-embroidered model logos and upholstery seams, the instrument dial needles, unique PCM screen and illuminated door entry guards The badge on the glovebox bears the same number as the 918 Spyder the customer has ordered. The 911 Turbo S '918 Spyder Edition' can also be ordered in the same colour as the customer has chosen for their 918 Spyder.
911 Turbo S '918 Spyder Edition' is being offered to coincide with the start of orders for the 918 Spyder, with deliveries starting in June 2011. The Coupé version costs £125,865 and the Cabrioet £133,553.