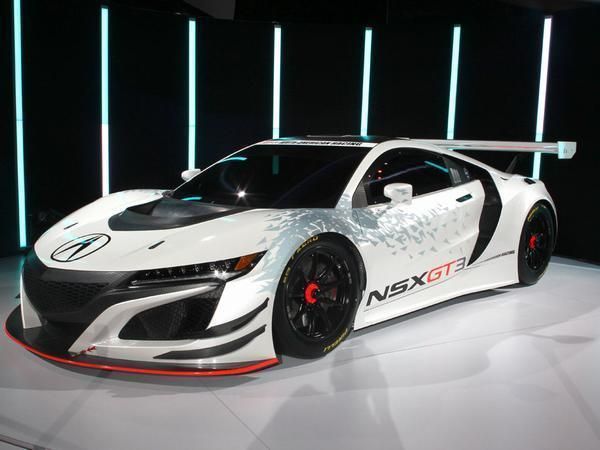 How excited is the world about the Honda NSX? Actually, lets rephrase that; how much more excited would the world be about the NSX if it were rear-wheel drive and combustion engined only?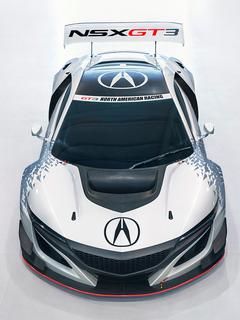 Out of nowhere!
Well wonder no longer, because here is that NSX. It's the NSX GT3 in fact, the latest Honda motorsport product and set to make a racing debut in 2017. And doesn't it look fantastic?
Those front aero flics are vicious, the negative camber super aggressive and the spoiler gigantic. It's very clearly still an NSX but just sort of, well, better. Look at those intakes! It just needs a few Mugen stickers to finish it off...
More interesting is the fact this GT3 ditches the hybrid and four-wheel drive system of the roadgoing car. It's rear-wheel drive and powered by the same twin-turbocharged V6 as the production NSX, sharing the block, heads, crank, pistons and valvetrain. A power figure hasn't been announced yet, but a six-speed sequential gearbox will feature.
Which, of course, must lead to some speculation on an equivalent road car. After all, the GT3 shares the regular NSX's spaceframe and body, making it sound more feasible than some race to road car transformations. The official line from Honda is that "NSX was always built to go racing, we can't confirm any future product inspired by that." But the prospect, even without driving the standard car, is mouth-watering.
Honda has said the NSX GT3 will begin competing in North America next year, with testing currently underway to push for GT3 homologation before the end of 2016. So it could be seen over in Europe, racing cars like the BMW M6, AMG GT, Bentley Continental and Audi R8 in Blancpain and the like. Needs to happen, right? We'll keep you posted!