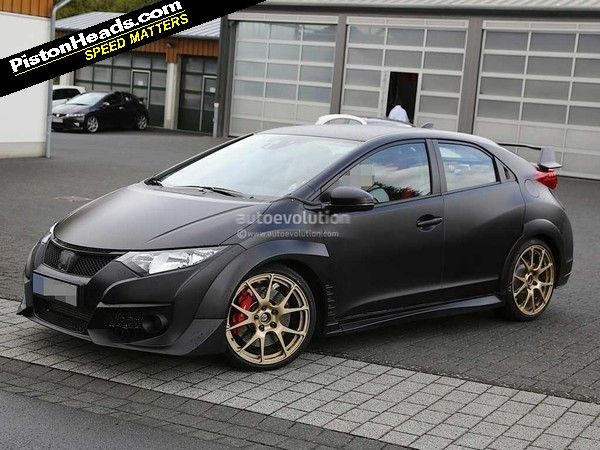 Renaultsport launches its
Megane 275 Trophy
and pictures surface of the Civic Type R testing in a very short space of time. Coincidence? Innate cynicism would have to assume not.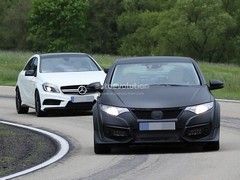 Fastest FWD be damned; Honda targets AMG
Honda has been fairly brazen in its intention to
take the FWD 'ring record
with the next Type R. We knew that. What we didn't know was how the production version would look; having driven an
early prototype
and seen the
Geneva concept
there were certainly strong hints but nothing definite.
Now, at last, the Civic Type R is here in all its camo-free glory. It appears to be the production version, we hope it's the production version, but these aren't official pictures. Yet.
Honda's overt intentions for the car are reflected in its wild appearance. That huge wing for the concept is still in place, some rather natty gold rims allow the gigantic brakes to be seen and all manner of intakes, scoops and vents adorn the body. It isn't subtle, that's for sure. The Type R is afflicted by the current trend in four-cylinder cars to have four exhausts which looks a bit daft. It's easy to forget that Honda Type Rs were often quite subtle aesthetically (think of the first UK Civic) and this is quite an extreme change.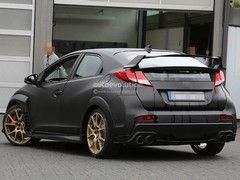 What was so wrong with two pipes? Or one?
Just in case Honda's intentions weren't quite clear for the Civic(!), see the cars it has been benchmarking the Type R against. There's an
A45 AMG
visible in the pic but apparently the
Golf R
and that Renault have been seen testing with it also.
With the new NSX due to make its debut at the Festival of Speed, the Civic may still be a little way off. To be honest there seems little point predicting just when Honda will launch new cars now, it's become a case of being patient. 2015 is still the rumoured date, so let's sit tight.
[Sources: WCF, autoevolution]