UPDATE, 1000h 02/10/2018
Nope, your eyes do no deceive you – this is the Infiniti Project Black S as seen at Geneva in 2017. Now it's at Paris 2018 looking remarkably similar, and still apparently no closer to production. However, there are a few worthwhile updates from last year to this, and we really wouldn't be doing our job properly to not report on 500hp, rear-wheel drive coupes. Here goes...
As before, the Project BS is powered by a V6 turbo with an energy recovery system for a 25 per cent boost in power. But where the 2017 car  featured only an MGU-K – an energy harvesting system that generates electricity under braking – this new-for-2018 version also has an MGU-H – an energy harvesting system that develops electricity under acceleration. Infiniti describes the result as a "unique and exciting electrified performance hybrid prototype."
Further tweaks from last year include a reduction in weight (without a specific figure stated), a rework of the aerodynamics (without a specific downforce figure stated) and a motorsport inspired interior, with some very jazzy seats and harnesses.
What there isn't, frustratingly, is any further commitment from Infiniti on putting a car like the Project Black S into production. The talk is still of "evolving collaboration" between Infiniti and the Renault Sport F1 team, "exploring the potential" for motorsport-inspired products and a "springboard for high-performance engineering." Goodness knows Infiniti, particularly in the UK, needs the image-building boost of a performance model in the UK, and a fast Q60 – the car on which the Project is based – would line up perfectly against cars like the M4, RS5 and C63. Where better to pitch your first performance product than the German sports coupe heartland? Hybridised or not, it would surely make an interesting alternative to the usual suspects – the Alfa Giulia has proved buyers are willing to think differently.
We'll keep you posted on the Project's progress, whether it gains DRS or a square steering wheel like an F1 car too, because it still sounds extremely interesting. Expectations firmly set at realistic though, given the concept is already a year and a half old. Still, stranger things have happened...
---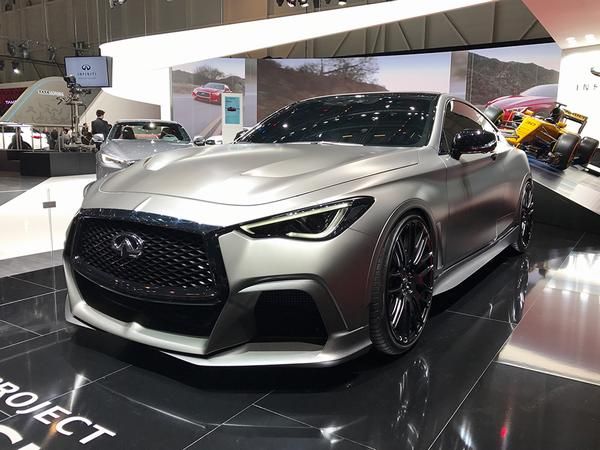 ORIGINAL STORY, AS REPORTED 06/03/2017:
The press material for the Project Black S may have just set a new world record for the amount of times the words 'hinted', 'potential', 'might' and 'could' have been used in one release. There's some useful information in there, all qualified however with the caveat of everything being a possibility rather than a certainty.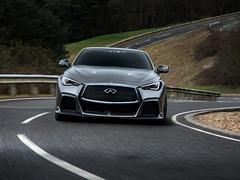 Under the bonnet Infiniti is "investigating the potential" of an Energy Recovery System (ERS) using a Motor Generator Unit (MGU) as seen in F1. An MGU gathers back energy which is stored in lithium-ion batteries to be deployed for extra power; Infiniti believes a road car application could happen, not only improving power and torque - by up to 25 per cent - but also throttle response and turbo lag.
More tangible features that can be seen on the Project Black S are the lighter 21-inch wheels, a titanium exhaust and the really quite wild exterior appearance. Again this is "to help gauge potential interest in a Black S grade", with Design Director Alfonso Albaisa calling it "a daring and elevated representation of Infiniti's performance DNA". So there are carbon body parts - front splitter, rear diffuser, rear spoiler wings and side skirts - said to offer a meaningful reduction in mass and increase in downforce. Black has replaced chrome and there are bigger intakes to channel more air in. More specific details are hard to come by, this car instead intended to preview a Black S production car which "could expand what the existing Infiniti range offers drivers, with higher performance, powertrain developments, modified chassis settings, and a range of performance-inspired design elements."
Frustratingly non committal though that all sounds, the fact that Infiniti is investigating performance possibilities has to be good news. If there's any more to be found out from the show we'll let you know!

---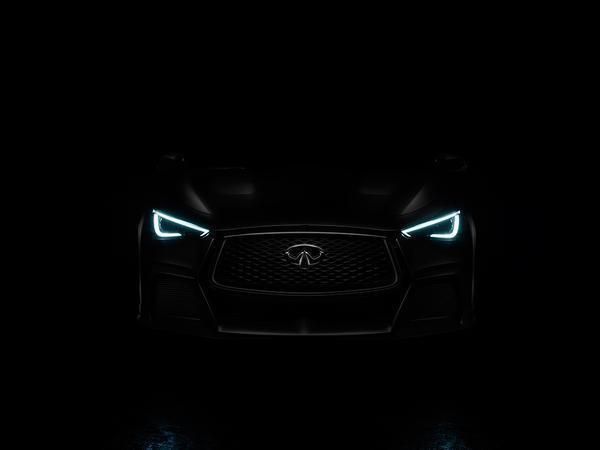 ORIGINAL STORY, AS REPORTED 1000H 06/03/2017:
It's fair to say that the new
Infiniti Q60
hasn't been terrifically well received, which is a shame given the previous
G37
(later Q60) was rather well liked. Could this be the car to change that though? The Project Black S, shown here in a teaser pic ahead of a full reveal later, is described as "an exploration of a new Infiniti high-performance model line."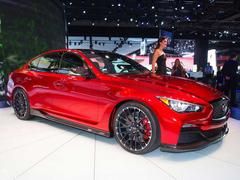 GT-R engined saloon didn't happen; will this?
We've been here before though, haven't we? Remember the
Q50 Eau Rouge
, a fast four-door that looked like Infiniti really had a rival for the Germans? That rather petered out, not filling anyone with confidence about a true performance Infiniti.
Still, they're making the right noises at the moment, and perhaps a coupe is a more suitable base for a range topping car. It has been developed in collaboration with the Renault Sport F1 team and features a "stand-out, aerodynamic design", as well as apparently hinting at how a unique hybrid powertrain "could significantly enhance the dynamics of an Infiniti production car." Hmm... Apparently the car uses an energy recovery system - really quite like an F1 car - to deploy recovered energy for a power and torque boost, the first time it's been seen in a road car. Alright, a concept of a road car. But it would certainly be a way to get noticed in the M4/C63 arena...
Beyond that little has been confirmed yet, beyond the oft-repeated line of it gauging public interest. No doubt the impact of Lexus's F models will be used to assess just how the Japanese manufacturers fare in sectors that are so dominated by the Germans. More information is due later this afternoon - stay tuned!