If last year's Le Mans was all about the LMP1 battle between Porsche and Toyota, 2017 was largely dominated by the GTE Pro epic. Porsche had a new car, Ford wanted to repeat its historic win and Ferrari could not be underestimated after last year.
As it happened the duel for victory was between Aston Martin and Corvette, a pair of thunderous front-engined V8s that are always popular at La Sarthe and are coming towards the end of their competitive lives. If you haven't seen the video of the last few laps yet then it's well worth a look!
Jonny Adam was the man who took victory in the V8 Vantage, sharing with Darren Turner and Daniel Serra; GTE and GT3 driver for Aston, he's a two-time British GT champion and has won titles in both the Renault Clio Cup and SEAT Cupra Championship. Below is our brief phone chat with him about those incredible last few laps, Balance of Performance and just whether he prefers V8s or V12s...

---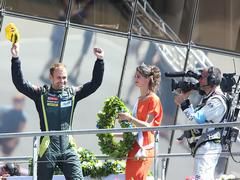 I'm sure you've probably been asked this a million time already since the weekend, but what is it like to win at Le Mans?
"I don't think it's fully sunk in yet. It was a special feeling to win the race itself, it'll be a feeling for the rest of my life that won't go away. Obviously the way we won the race, seeing people from the team hanging over the wall, the other car pretty much side-by-side with us as we took the chequered flag, just to see what it meant to people - you realise then what you've won.
"It's one of the biggest races in the world, and we've been waiting nine or 10 years for this. Aston made that return to sportscar racing, the old GT1 category, in 2005, so we've been waiting a long time since then for this win. I'm totally made up; for Prodrive, for everyone at Aston - we've put so much into every year, but especially this year.
"We knew that this year could be the race of all races, with the Balance of Performance so evenly matched, it could have gone to anyone. It could have gone to Ford, it could have gone to Ferrari, Porsche was strong and the Corvette had great pace again. So it was shaping up to be a titanic battle, and it was right until the chequered flag; I guess that's what people wanted it to be, and it became quite a spectacle for the fans there and people back at home."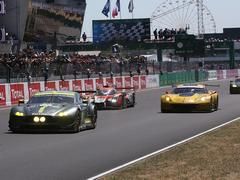 So what were you thinking
attempting to pass Jordan Taylor at Arnage? Did you think that was the chance gone?
"It was a weird one! It's the slowest corner on the circuit, and it's probably the lowest grip corner on the circuit, but it's the only place on the circuit that Jordan Taylor looked a little bit slower than us. The rest of the track he was the same pace, and I wasn't close enough anywhere else to have a manoeuvre. The cars were so evenly matched on straight line speed that the slipstream didn't really give us much, but into Arnage he braked so early it was going to be there or potentially nowhere.
"I went for the move (on the inside), and because it's so bumpy off line, it's hard to slow the car down properly. There was a little bit of contact on the exit, but the fact is he drew out six or seven car lengths away again. In my head, after that, as much as I'd made the move try and stick there, I had to say "You've still got two and a half laps to try and bring this back - don't give up. Just try and be inch perfect everywhere else and just see." At that point his tyres were going off, he had a little more understeer than we had...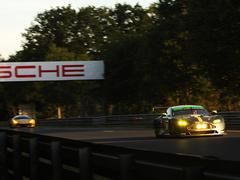 at the chicane on the Mulsanne straight...
"Yeah, it was weird, because he never had any issues before that. He braked quite deep - obviously I was braking quite late too, with both cars on the limit - and he skipped across the gravel quite quickly, so immediately I radioed the team and said "Look, there's clearly been a gain there of another three or four car lengths as he's carried more speed through the chicane."
"But normally when you have a big lock up like that there's a big vibration through the car and you can't then brake in confidence because you've got your flatspots. What happened then through the next corner, through Mulsanne itself, he braked four or five lengths earlier than he'd ever braked. Then I knew that he was weak, there's a point where's he going to have to brake earlier again - let's just try and catch up to him, be right on him going onto the last time.
"Then as we were going through the exit of Porsche Curves, I was right behind his bumper but I was looking at his left-front tyre and I could literally see little shavings of rubber coming off the tyre as it was starting to delaminate. So I was thinking this was it, he's in the territory now where he's going to struggle.
"The team were great here; they gave me radio silence for the last couple of laps, but you're so in the zone when you're trying to be inch perfect that I thought when we came out of the chicane, because everyone was on the pit wall - waiting for the LMP1 car to come back around - and the crowds are roaring in the grandstands because of the battle between us and Corvette, I thought it was the final lap. I got by him and thought "Oh my God! We've just won the race" - then there's no chequered flag. Then the team were on the radio saying "Just more one lap to go" and then the Corvette obviously had the issue after that with the puncture. But after that I think it was the longest, slowest lap I've done of the whole weekend.
"And the next bit of course was having the 95 car right next to us taking the chequered flag; I think the photo will already be up at Gaydon, and it'll go down as a memorable victory for Aston."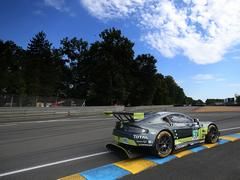 From a spectator's perspective it looks like you're flat out all the time - how close are you to ten-tenths for 24 hours?
"You're on the limit all the time. But we couldn't take too many kerbs, or be too aggressive in traffic, and just watching the debris for the pick up of a stone or anything that might cause a puncture off line. Problem is if you get a puncture at Le Mans, it's a four-minute lap just about, so it's a long old lap if you get a puncture early on. Other than that you're driving flat out, pretty much.
"That was it right at the end, definitely. I was there in second, following the Corvette, and battling for victory at Le Mans. If there's any chance to get by I have to make it - that's why I made the move at Arnage. Because I said to myself: "You may never get this opportunity again." I think Aston wanted to us to put a fight up, really, and we did that. The boys really helped me out though, with great pit stops, a great strategy and a great car, you know? It never missed a beat. It ran and ran and ran. It's a bit dirty now but it never missed a beat."
You mentioned Balance of Performance earlier - is that something that drivers like and embrace?
"Balance of Performance is a key thing in sportscars and GT racing, as it balances the cars out. Every car has their strengths and weaknesses, but what BoP does is bring everyone in to a similar lap time. Then over the weekend it was so close - there was no manufacturer that stood out, that had incredible pace. Everyone had their moment throughout the race. Porsche were fast through the night, Ferrari were fast at the start of the race, as was Ford; Ford led the race for a long time, the #67 car had a good strategy. Then it was just us and the Corvette at the end - we had a strong car that was there and, if the strategy had have worked out for Ferrari, I think they could have been in the mix too. But it was nice; we've had great battles with Corvette right back to the GT1 era, GTE as well, but for it to go the way it went - you know, us against the Americans - it was done fairly, and that was really nice. Even the other manufacturers congratulated us after the race. It was an epic, memorable fight.
"Le Mans is a special race in itself, it's an iconic worldwide event; it's a 24-hour race but it's a 24-hour sprint race. It went down to the final lap of a 24-hour race, between two cars that had no performance difference, two completely different models, two completely different tyre manufacturers, and for it to come out like that was quite cool I think."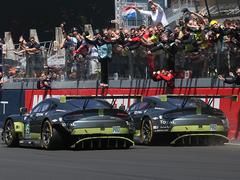 British GT is of course going very well for you at the moment too (Adam was 2015 and 2016 champion, and currently sits sixth in the standings), but what are the main differences between the GTE and GT3 car? Is there one you prefer?
"There is quite a big difference, but I've been doing it long enough now that it doesn't really take me long to jump from one into another. Because the season's so busy - I'm doing 24 weekends this year, with 15-16 of those as GT3 - and I've been with the Vantage GT3 car since it came out. I was the first person to shake the GT3 car down in a private test in November 2011. And I've won a few championships and some races since then; I'm probably the most successful driver in the car, but also the most experienced GT3 driver for Aston.
"But in GTE that's the level I've wanted to step up to with Aston. British GT is still very, very important, with good customer teams and a great car - the Aston is one of the best GT3 cars in the world - and it's not just the British GT3 Championship either as we're actually leading the Blancpain series too. So it's not just in the UK that we're good, we're good in Europe with this car. For me personally, racing in a worldwide championship that includes Le Mans, that's what I've always aspired towards; to tick that box. And with big points at Le Mans we're sitting second in the Manufacturers' Championship, just behind the Ford UK team, it's really helped our hopes of winning a World Championship.
"But yeah, there are differences. One car has ABS, for example - the GT3 car - which the GTE hasn't, and the GTE car has a lot more aero and mechanical grip too. We have the Dunlop tyres for GTE and a Pirelli for GT3 and Blancpain. There are differences but for any race driver, you just get in and pedal it as fast as you can."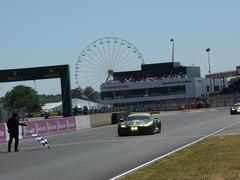 Do you prefer the V8 or the V12 then?
"V8 is a noise when it comes to outside; they're a beautiful, low, throaty noise for the fans - they all say it! When we're doing pitlane signings the one word we always here is "noise". They say "you know what, we could hear you way before we could see you. I love the noise of the Aston V8."
"But for me the V12 it's that high-pitched noise, it's a different engine note altogether. In the UK we're very restricted on noise but in Europe noise isn't necessarily an issue so we don't run a much silencer packaging - the noise is so loud!"
What does single make success teach you?
"I think racecraft more than anything. You've got nothing. It's just you, perhaps a little bit of set up with the team, but the cars are identical - the engines, the gearboxes, tyres, everything's the same.
"Don't get me wrong, the races are a lot shorter - two half-an-hour races usually - but when it was just one make, whether that is the Clio or the Leon, it taught me a lot about door to door racing. I've always tried to work hard at my racing because I've always had to get sponsorship or try and beg, steal or borrow to get out there racing so I've always raced on a budget.
"And that's why when I raced in BTCC in 2009 (it was a big ambition of mine to get there when I was racing in the support series) I just didn't really gel with it because touring cars require contact; and not deliberate contact, but the contact you have to make sometimes just to get by cars. I'm just not that type of driver because I've always raced on a budget so I've never been able to afford any contact and the repair bill.
"So that's why sportscar racing is perfect for me. Because endurance is all about consistency, which I like to have in my racing, and obviously there's no point in having contact. If you're having contact then you're not going to finish the race. So when I stepped over to GT racing in 2011 I really enjoyed the more seat time you got, the challenge of endurance, the challenge of strategy, working with other people, working with a bigger team and I just felt that it was my comfort zone and where I wanted my career to go. Then I got picked up by Aston in 2013 and the rest of it is a nice part of history."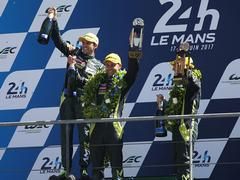 And finally, with this being the last year for the current V8 Vantage GTE car, how are things progressing with the replacement car?
"Ah, well I can't say too much at the moment! The big thing back at base now is because the win has left us sitting second in the manufacturers' championship; obviously last year we won the Drivers' Championship with Nicki (Thiim) and Marco (Sorensen) and Teams' Championship but we never won the Manufacturers' Championship, and that's the one we're desperate to win.
"So to be honest, the mindset now is so driven on the rest of the season. Don't get me wrong, there are still things bubbling around for the future with Aston, but definitely our mindset now is to fight for this World Championship. Last year it went down to Bahrain, it went down to the last race of the year and, with the way the calendar sits this year, we always try to be strong towards the end of the season. Dunlop have really produced a fantastic tyre that works really well in warm conditions and obviously the races like Austin, like Mexico and like Bahrain are all warm climate races so we're hopefully going to have a better situation. Not any more performance than anyone else, but just to have the performance; hopefully for a win or at least some decent points.
"But Le Mans is a big part of the World Championship; if you don't finish at Le Mans, you don't take good points. So that weekend was brilliant as an iconic win but also in terms of the Manufacturers' Championship we're back in it. We're right there with Ford. Again, it'll go down to final race of the year. So now, as a team, all the resources are going towards getting another championship."