"It's going great; we're all perspiring quite a lot now. We're wondering if Lord March wouldn't mind putting it back by a week", says Les Edgar about
will finally be unveiled. Remember that's just four years after he
Edgar's laughing, but the resurrection of TVR from its Smolensky/Blackpool ashes has been quite a journey. The new car arrives on the scene 70 years after TVR was formed, and the marque has been through its fair share of turbulence, with low sales and bankruptcy in the 60s, and poor build quality and the arrival of the Porsche Boxster to steal sales in the 90s/2000s.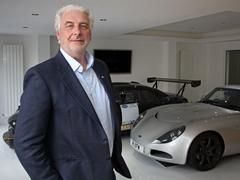 Not long now until his creation will be shown!
Still, Edgar, a former gaming entrepreneur, and lover of Aston Martin and Le Mans, has formed quite a team around him, with
as Operations Director and Gordon Murray, who has designed and engineered the new model using his iStream manufacturing process at his Surrey HQ.
How does one breathe new life into a brand that has such a strong historic identity, protecting the DNA of TVR while resolving all the weaknesses, and keeping loyal customers happy while attracting a new audience? What on earth does TVR stand for these days?
"What other brand is there that is so iconic, really stirs the emotions?" retorts Edgar. "'British muscle car' says it all. It's a bit bonkers, I love the whole anti-establishment nature of it. We've used a line that predates us: 'The Spirit of Driving', and that sums it up for me... We wanted to get back to what the spirit of driving is all about. This is man/woman and machine (not all three at the same time) together.
"It's also the Britishness, the underdog nature of TVR; it's a thing that attracted me to Astons... but I see it very much as the everyman supercar, so we're trying to hold onto that notion that that's what TVR stands for."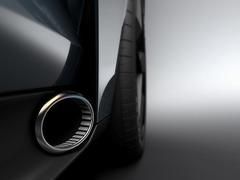 Side-exit exhaust, flat floor, V8...
The team hasn't strayed from the basics of a Cosworth 5.0-litre V8 up front, rear-wheel drive and six-speed manual box. It is, Edgar tells me, a "very, very loud" car. The performance figures released so far are a top speed of 200mph, 0-60mph in less than four seconds, weight of 1,200kg and a power-to-weight ratio of 400hp per tonne.
"If you look at TVR's history since 1947, the cars look very, very different, through the wedge shapes in the 80s, the more organic shapes in the 90s and Noughties; we're not shackled by the same thing more traditional manufacturers are", says Edgar. 
"Even looking at Porsche, who tried to kill the 911 off with the 928; they realised that was a bad mistake, then they tried to supplement a dying business by bringing in the Boxster and the Cayman, but they still sold more 911s. They have to build cars that look like 911s; we don't have to do that." Edgar hints at many iterations to come: an SUV or electric TVR then? He laughs: "Yeah, that's it". That'll be a no, then.
"We all know that the modern sports car can't survive in the way that previous TVRs survived", he says. "The company couldn't have survived if it had continued in that way; you have to be building a modern car that has broader appeal, there's no question about that. We have to have volumes that enable us to survive through the next 20 years so therefore you can't be completely outrageous with every car, but we fully intend to surprise people with the offering that we produce and each iteration of that."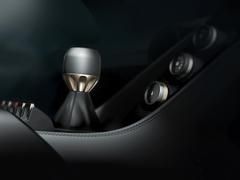 ... and a manual gearbox - hurrah!
Alongside the road car, there's a development schedule in place for a race car "for a single-make series, which we hope to bring back: TVR pretty much was the forerunner of all the one-make series with the Tuscan Challenge. We're going to bring that back, so I hope to see our equivalent of the modern Tuscan Challenge at Goodwood in the not-too-distant future."
There's also the imminent return of TVR to the GT Pro grid at Le Mans, probably next year: "We said before that it seems crazy that you'd be a high-performance sports car manufacturer without proving it and for me, having spent the last 32 years going to Le Mans, that's the ultimate test", confirms Edgar. The new car has been designed with the widest possible track for Le Mans, and Edgar has been in discussions with the ACO for some months now.
Another man excited at the prospect of TVR racing again is Gordon Murray. "I think [Edgar and Chasey] are trying to grow the TVR brand seeds and bring them up to date, and one of those seeds was always racing, whether it was a one-make series or Le Mans; it was always part of TVR's make-up. My company is full of ex-racers, so that's another attraction for us." 
Edgar approached Gordon Murray Design to be the TVR engineering partner back in 2014, soon after Edgar took the company off Nikolai Smolensky's hands (which in turn was shortly after a small boy kicked Smolensky in the shins on a London street, yelling "You killed TVR", an incident which Edgar says helped persuade Smolensky to part with the company at a loss.)
"Les and John were looking round the UK for potential engineering partners and we were interviewed", remembers Murray. "They came back and chose us and within that choice was the iStream manufacturing system.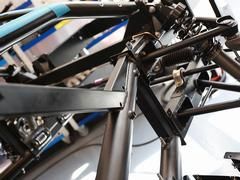 Torsional rigidity said to be up hugely
"We were a little bit hesitant because iStream is a manufacturing system with structural composites - that's for higher volume. There are plenty of expensive ways of making cars at lower volume in composites but for the sort of price point they were looking at that was not going to be possible, and for the volumes they were looking at.
"There's an uncomfortable volume with material choice, where if you're making a few hundred cars a year, certain methodologies are quite acceptable, but if you're making hundreds of thousands cars a year you have to use different technology and one of our reservations was we didn't know whether iStream would go that low in volume, would downscale, but we had an internal study and decided that it would. 
"The compelling case for us was: this is a great British brand and a British sports car and an exciting programme, and it was something the company wanted to get involved with."
Sighs of relief all round, one imagines. Thanks to Gordon Murray's innovative manufacturing process, TVR customers will be able to choose both the chassis and body materials for their cars. "They choose the fundamental architecture materials which is either iStream Carbon [multi-tubular frame with steel components and carbon-fibre bonded panels] or iStream 3 [which replaces the steel tubes with aluminium sections], then they also have the choice of body materials, because with iStream the body is not structural, unlike all the cars that you and I drive", explains Murray.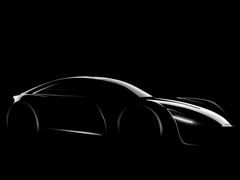 Wonder what it will be called?
All of which is great, but what of the biggest problems the brand faced latterly: build quality and reliability? How TVR has addressed quality issues is, says Edgar, the second most asked question after "what's the name?" of the new model.
"Of course you can't build a sports car these days without it having fantastic quality and reliability so our strategy on that front has been the iStream process, which lends itself to producing inherently very high quality construction", says Edgar. "It's very, very torsionally rigid, for example, so the thing's not going to be shaking itself to bits as you drive down a bumpy road. Typically it's probably seven to 10 times more torsionally rigid than any other TVR.
"[As for] reliability - the ethos is to take proven components where possible and bespoke them for TVR, which is why we've gone for a Ford base engine and then given it Cosworth to sprinkle the magic on it to make it special."
The car is shorn of electronic driver aids, to cut weight and cost, but also the number of things that might go wrong. It happily also fits Edgar's vision for a purebred sports car.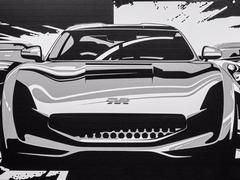 The new model will cost £90,000; isn't that dear for a TVR? "Relative to previous TVRs, in people's minds it is probably higher than they were expecting, but... if you take the Sagaris when it was produced in 2005, it was around £60,000-odd when you put air conditioning in and paint on it, so in RPI terms we're roughly close, but this car is a fully specced car - there's not an awful lot you can put on it to increase the price. Carbon chassis, Cosworth V8 engine, full leather luxury interior trim, special launch edition paint, umm, my undying love and gratitude to every buyer, special wheels...lots of stuff. Everything's on it, this is a special car."
Let's hope, for all lovers of TVR, that the new model does turn out to be a special car. Who doesn't want to see this British brand back in rude health, 70 years after it first appeared on our roads? Fingers firmly crossed.