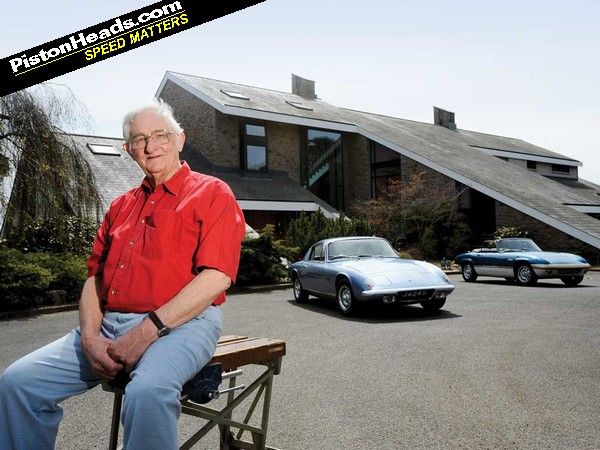 After all the
bad new
s from Hethel over the last few months it's been nice to have been (cautiously) a little more celebratory about Lotus recently. We had Matt Bird's first impressions of the
Evora 414E
and
the tech
behind it and it's hard not to feel real pride at the fact beleaguered Lotus is - despite it all - up there with the might of Porsche in the development of next-gen hybrid supercars. The
918 Spyder
is a more polished and powerful statement but there's something engagingly British, like
the Bloodhound
, about the Lotus project. And it's hard not to feel hopeful about the possibility of selling the tech on to mainstream carmakers and guaranteeing a future income that could keep things afloat.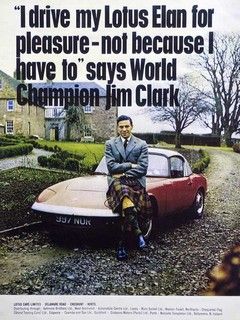 Jim Clark flies the flag for his employer
While we're celebrating Lotus's ingenuity we owe PHer Zeast a debt of gratitude for pointing out a more poignant Elan-related anniversary than the one we used as a flimsy excuse to link to a vid of
Diana Rigg
flouncing about in an Elan. Flimsy but most valid!
Anyway while the show debut we were trying to pinpoint was apparently October 15 for the 50th anniversary of the press unveiling of the Elan at Earl's Court, yesterday would've been the 80th birthday of Ron Hickman. Hickman's death in February last year was picked up on by the mainstream media for his invention of the Black & Decker Workmate, my own of which I was using just this weekend! Sadly I don't have an example of Hickman's more exciting work, namely the Lotus Elite and Elan he played a key part in the development of. But it's a good excuse to share some of the period pictures of the Elan Lotus sent to me (including one of Hickman's design sketches), further celebrate 50 years of the Elan and salute one of the men intimately involved in its creation.
Dan