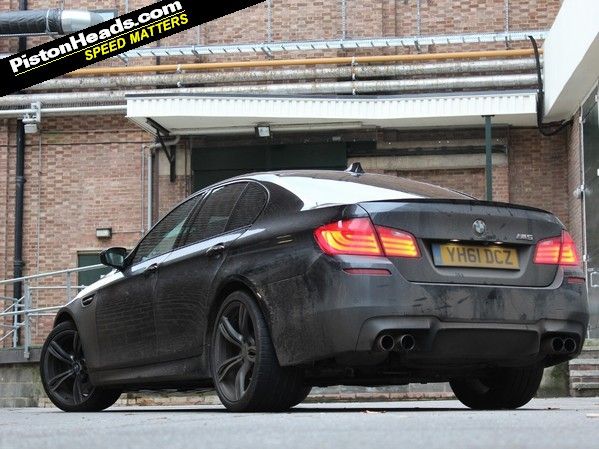 A confession. Until last Friday I'd never driven a BMW M5. Of any description. One of those weird black holes in my motoring back catalogue, only partly attributable to the fact I spent a good few years working on a Mercedes magazine and driving mainly AMGs.
So it's possible I'm a little biased. But I'm really not sure about the F10 M5.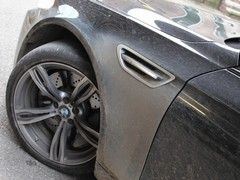 Thank you Wales, Wiltshire and the M40 for your contributions
And it's not for the want of trying. Just look at the thing. That's what you get after a lap of North Wales and hanging out on a video shoot with our man Harris on some very wet and soggy Wiltshire B-roads.
With the E63 AMGfresh in my mind it's been a good chance to compare the new M5 with a rival that matches it pretty much blow for blow on every line of the spec sheet. Never have AMG and M squared up to each other on such equal terms before.
It's a fascinating contest too, the German megasaloon equivalent of Impreza versus Evo or MP4-12C versus 458 Italia. And who's to complain at two 500hp-plus V8 heavyweights representing their respective manufacturers at the top of their games.
So what is it about the M5 that's left me, seemingly alone among every one of my peers, a bit cold? I will be exploring this in more detail, trust me. There may even be a 'Tell Me I'm Wrong' in it. Stuart already has.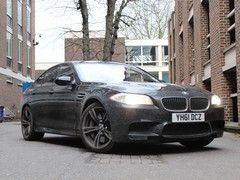 Reserve fuel light on, needs a clean - PH is done!
In a nutshell it feels to me like the M5 is just trying a bit too hard. The E63 feels self-assured and confident in its own skin - it makes a 525hp E-Class seem an entirely sensible proposition. Availability as a wagon (as previously noted, it is officially acceptable to refer to Mercedes estates as wagons) is another point in its favour.
In comparison the M5 feels overwhelmed with pent-up aggression. And a little exhausting to be around. Its size and bulk - it's nearly 100kg more than the E63 saloon - are real limiting factors. So I'm not sure. There's so much to be impressed by. But to like? Not sure about that one.
Dan