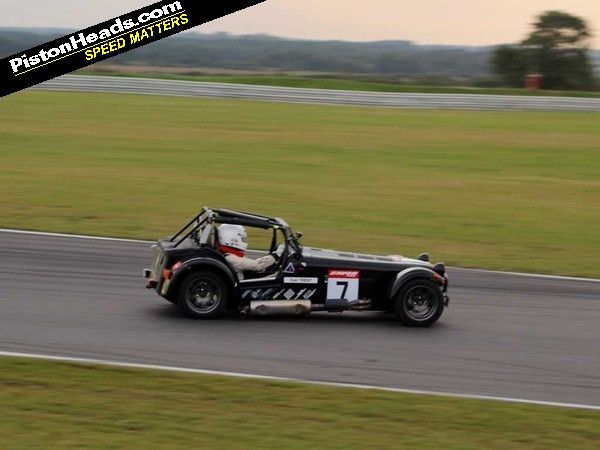 PistonHeads is racing this weekend at Snetterton in the Caterham Roadsports category, following on from Riggers' previous success in the Academy a couple of years back. Keep checking in for updates!
---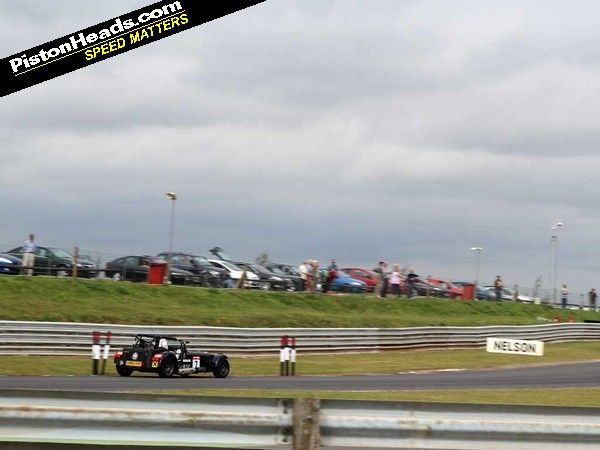 Sunday: home and dry, 2000h
So, it's been a physically and emotionally exhausting weekend! But I managed to get the car home intact, kept my nose clean and left the Roadsport guys to have their race while I pottered round at the back, a 'tactical' spin (right in front of new marshal buddy Karl, amusingly!) ensuring that I wasn't in danger of troubling them or Darren the spares man's supply of body parts. Which was more or less exhausted anyway after the combined efforts of the five packed fields of Caterhams!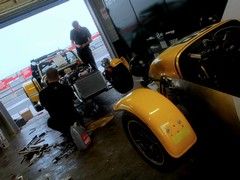 All in a (long) day's work for the Caterham boys
He and the rest of the boys deserve an absolute medal too, Mark, Brett and the other guys with the spanners doing some truly heroic after-hours work to get my poor battered car - and that of the chap who ran into me - patched up and ready to race today too. Seeing the state of both of them you'd have thought they were ready for the scrapheap, likewise the collection of Academy cars that ran into each other on the finish line in their race on the Saturday. But, no, they got everyone back on their respective grids with a combination of grit, guile and, apparently, creative use of trolley jacks on bent chassis sections. Best not to ask!
And it was a day of mixed emotions too. For bigger picture reasons that will become clear - and a very real need to keep my nose clean - I took it easy today. My spin was inattention and very costly in terms of ground lost but meant I could just concentrate on enjoying myself and I took some satisfaction in breaking into the 27s - just - which was a big improvement over my pace yesterday. Snetterton is a fun track too and I really enjoyed the mix of fast straights and the section from Brundle, Nelson, Bombhole, Coram and Murrays and onto the finish straight. For most of this it's a case of balancing the Caterham on the very edge of its limits, as much with the throttle as the wheel and you have so much feel for weight transfer, grip, traction and the rest, especially through Coram, that it feels immensely satisfying when it goes right.
And, yes, I got to do the cool-down lap and gave Karl and the rest of the guys in orange a hearty wave as I did so. Mission. Accomplished.


---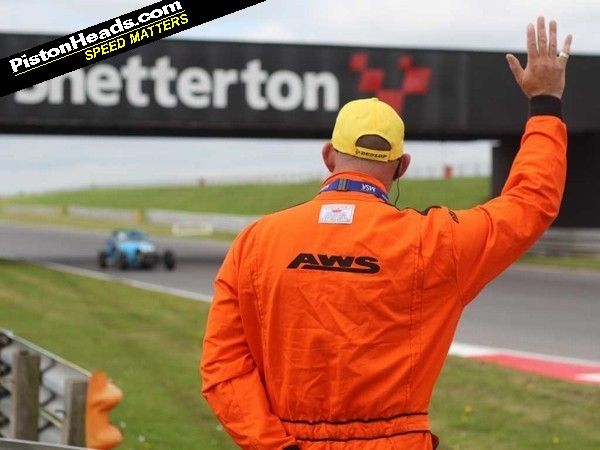 Sunday: Snetterton, 1400h
After yesterday's adventures (more to follow on this!) I've spent the morning out marshalling, which has been a fascinating experience and one that the Caterham Academy drivers are encouraged to have a go at. Over at the Esses (aka Brundle/Nelson) Tim, Karl and his colleagues gave us an express lesson in the job and a hell of a lot of insight into the lives of the unsung heroes in orange. The dedication of these guys is really something to behold and without them there wouldn't be any racing at all. Today's lesson? Always wave to the marshals on the cool-down lap - they really appreciate it. Hopefully I'll make the cool-down lap this time and be able to put that into practise!
---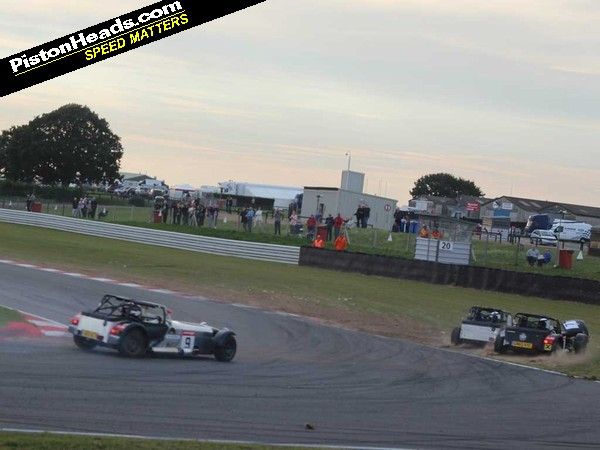 Saturday: at the B&B, 2015h
So, it was going quite well. I had a good start and probably made up a couple of places into the first corner and was feeling pretty pleased with myself. And then ran a bit wide and lost a load of ground. Damn. I clawed my way back up though and then into a heck of a fight, swapping places two or three times a lap at points. And then this happened on the final corner of the final lap, fifth place in sight. Heartbreaking but gentlemanly handshakes have been exchanged and it's chalked up as racing. I'm gutted though, especially for the guys at Caterham who invited me to join their championship and now have an evening of spannering ahead of them.
---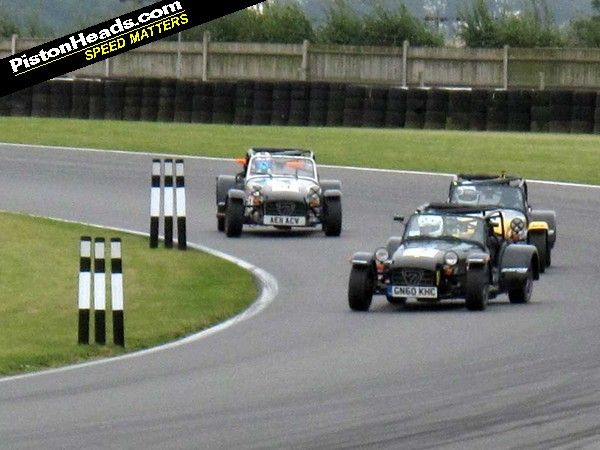 Saturday: Caterham hospitality, 1335h
So I got my suit – thanks again RacerMike – and was allowed out into qualifying. I was absolutely bricking it to be honest and desperate to improve on my times from yesterday but conscious this was my first and only run before the race.
The blood was definitely up compared with testing too and the first few laps passed in the familiar 30s. And then a 29.99! And then a 29.5… But I was on my own, lacking the tow from the fast boys I'd been looking for. A dilemma – try and bank a good one on my own or sacrifice a lap, hang back and get back with a group? I pushed on and had an amusing few laps trading places with Adrian who loaned me the lap timer, including a little love kiss braking for the Montreal chicane. Oops! I was trying to play the game and get a tow from one car up the Senna Straight, pass it and then try and hitch onto another on the Bentley Straight.
But I couldn't quite string it together and when my golden opportunity came with fast boy Brad Smith I cocked it up at the Esses and he was away. Damn!
Still, by the end of the session I'd managed a 28.6, good enough for eighth but – sob – way behind pole sitter Smith's 26.3. I've got a few hours to brood over this and ponder the plan of attack for race one at 5:20pm…
---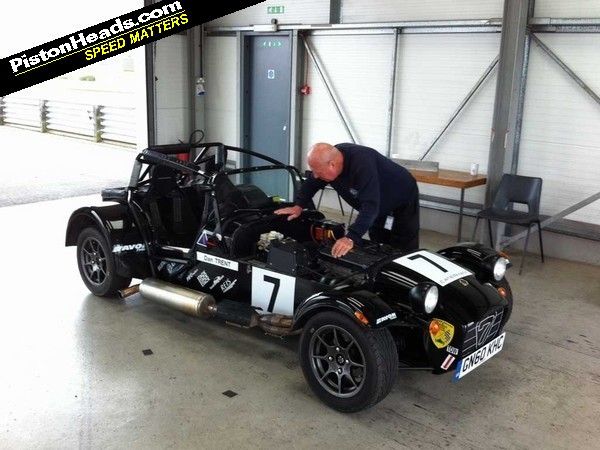 Saturday: Snetterton scrutineers' bay, 1120h
A civilised 10:30 sign-on meant a relatively leisurely trip over, Norfolk clouded in but the track dry(ish) on arrival. The paddock is bustling too with cars everywhere - the TVRs look pretty serious and I'll be sure to be watching if it rains for those boys!
First the paperwork! I remembered my licence this time, which is a start, and with that I was down to the garage to say hello to the chaps and grab the car for scrutineering. That was going well until we got my clobber. My new helmet, Alpinestars 'fast hands' gloves and now matching boots were all OK. But my borrowed overalls - acquired from a mate who drag races a home-built Beetle - are out of date it seems. Eek!
Once again the camaraderie of Caterham racing was demonstrated though, a quick call around the paddock by organiser Jen finding a spare set with PHer RacerMike in no time. Back up to the scrutineers I got my ticket and I'm ready to go, qualifying starting at noon. Best get togged up, complete my, ah, pre race rituals and get going...

---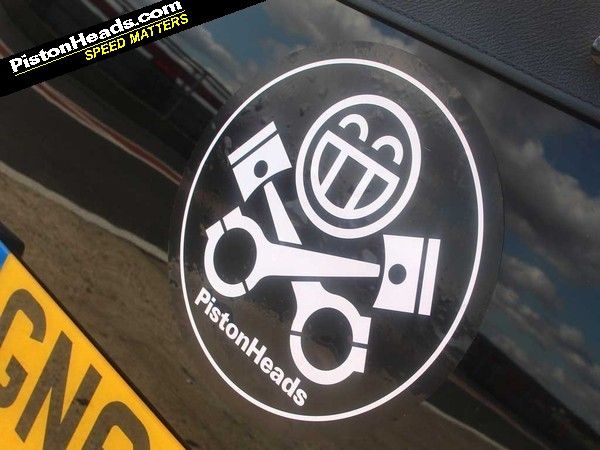 Friday: home and bedtime, 2330h
A long day with a lot of driving taking in three tracks and quite a bit of time on the road too, the latter requiring a degree more adjustment than usual. No Dan, you don't need to slipstream people on A14 like you do in the Caterham...
As I prepare for bed my mind is pondering where the hell I get a couple of seconds from. I'm watching my new friend Frank too - he'd said he was stuck in the 30s and couldn't figure out how to go any quicker and then he slots in a 28.3 just before the end. Hm.
The lap is feeling pretty good and I'm happy enough with the way I'm getting through the Esses after the bridge, Bombhole, Coram and Russell Bend that follow - they all flow really nicely and I seem to make up ground on folk through here. I'm thinking I'm losing time on the chicane where the old Sear Corner used to be and that's costing me time up the straight. I've been tipped off that drafting folk makes a massive difference too and in qualifying to try and slip in behind some fast boys and get a bit of a tow.
I should be sleeping but the laps are just playing and playing in my head, my ears ringing, my neck aching somewhat from the slipstream tugging at my helmet. We'll see how we go tomorrow but I'll not be happy without more regular 29s and maybe a 28 or two. It's got to be there somewhere...

---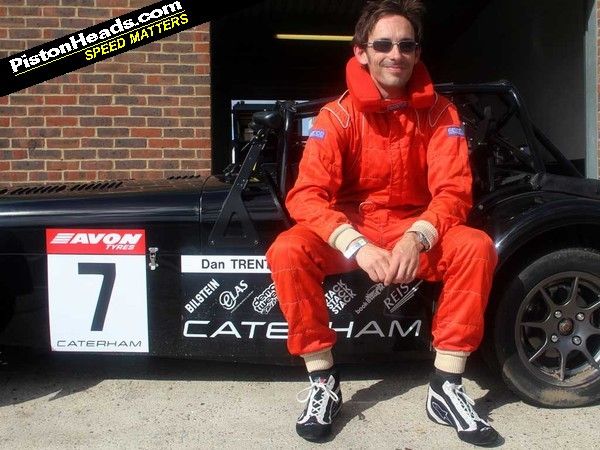 Friday: Snetterton, 1600h
So I've had a couple of sessions on track now, having missed one to nip up to Lotus for a secret mission. Well, not really secret. But I'll tell you about that another time.
First session out was eye-opening and rather like a track day with no overtaking rules. Fun, in other words. And I managed to keep it on the track most of the time. I'm out in a testing group with the identically powered Academy cars, which is interesting because although they run less grippy tyres they're also bigger ones so their gearing is different. Which means I can carry more speed out of the corners, pull alongside full of intent ... before inexorably falling back before the next corner. I had no idea how quick I was going but it was a load of fun. This isn't fun though, it's racing and once back I realised I was going to have to find a way of timing myself to get a measure of how I was doing.
Lesson number one in Caterham racing: everyone's really friendly. I chatted with a couple of folk and in the end a nice chap called Adrian loaned me a lap timer, which was jolly decent of him, likewise Frank who gave me some velcro with which to attach it to the car. Not that the news was good when I got out for my second session after getting back from Hethel.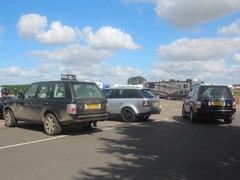 Racers love Range Rovers it seems
This after getting to grips with the slightly creepy arm retaining straps. Trussed up like some sort of bondage freak the idea of having my arms restrained didn't feel too good but then nor does the idea of them flapping about in a roll-over.
Out on track the lap timer was telling the ugly truth - I'm slow. Even 'good' laps are in the low 1:30s, a couple in the high 29s the best I could do. And the fast guys in Roadsport? They're in the 27s. Ah.
I bumped into a nice chap called Elliot, who clams the inspiration to get into Caterham racing came from reading about the exploits of Riggers on here. Now in his second year, he's damned quick and the current championship leader. So I've been shamelessly plumbing him for tips on how to get my time down!
A brief chance to catch breath and get ready for the last session now, via tea and Penguin biscuits. Yum! Oh, and anyone doubting the PH-worthiness of Range Rovers and their popularity among car folk needs to pop down to the Snetterton paddock. You can't move for the things! Sports, full-fat, classic - they love 'em!

---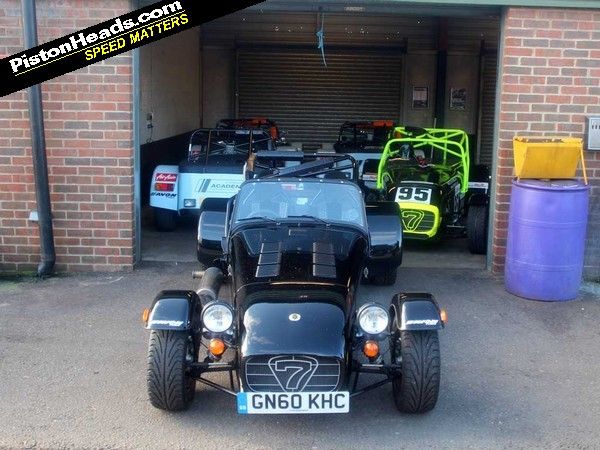 Friday: Snetterton, 0940h
Greetings from Snetterton, only my
second time here
and I'm going to be racing again! I'm back in a Caterham and following in the wheeltracks of my esteemed former colleague Riggers, who raced
in the Academy
a little while ago. Some act to follow it'd seem – everyone remembers him. I intend to find out why in due course!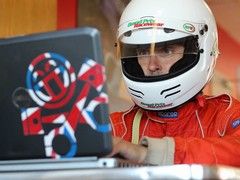 Not the usual clobber for a day at PH editorial
For the moment though it's a bit of a flurry of signing on, walking from one of the paddock to the other … and back again. I've got my kit though, freshly delivered via
Grand Prix Racewear
(thanks for the swift turnaround guys, not like I left it to the last minute or anything…) and, like the first day at school with a new pencil case, stand out like the obvious new boy with my mismatch of borrowed overalls and spanking new helmet, booties and gloves.
I'll be racing a Roadsport, much like the one I took to the Alps and BrandsHatch earlier in the year so I'm fairly happy with the car. We're racing on the shorter Snetterton 200 track this time, not the 300 I raced in the Mazda 12-hour last year.
Everyone seems super friendly too, though we'll see whether that's the same once the flag drops. Suffice to say, I'm pretty nervous and fully aware these guys don't take any prisoners. Kitted up and ready to go it's time to actually get out for the first practise session now. Keep checking back for updates!