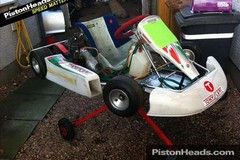 Family fun is what this time of year is supposed to be all about (we'll not argue here about the semantics of whether or not that's actually true - that's a whole other discussion). And Shed is not one to shirk away from festive fun and frolics with all the family, especially if we can shoehorn in some petrol-related entertainment to the proceedings.
But Shed's motoring-based Christmas fun is nothing dull and indoorsy. Oh no. Not for Shed the whizz of the Scalextric. Or even the patio-based radio control car. What we have for you (provided you have a relatively small family), is the possibility of an entire full-sized race.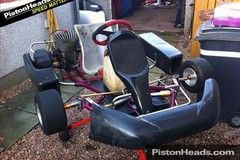 Well, full-sized in as much you can fit actual people in them, because our Xmas special SOTW is the opportunity to shake-off that turkey-induced stupor in not one, not two, but three two-stroke karts.
Two of these, the vendor reckons, are 100cc-engined adult karts, which means that they should be capable, depending on gearing, of 0-60mph in around six seconds, and a top speed of roughly 80mph. The third is a children's cadet kart - most likely fitted with a 60cc Comer engine and still potentially capable of around 60mph.
They're not quite 'get in and go', mind. One of the adults' karts needs its brakes bled and a couple of bolts for the steering, while the other needs a new rear axle fitted (though a new one comes with the sale). The cadet kart, meanwhile, is in need of a new pull chord...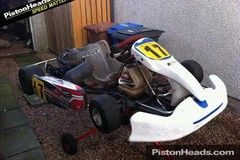 Once you've surmounted those *cough* minor obstacles all you need to do is find somewhere suitable to drive them, and get hold of the relevant safety clobber. Though that might just put you a little over Shed's £1k budget limit. But what a way to settle family disputes. And to find out just how handy a wheelwoman Great Aunt Gwen is...
Advert is reproduced below
TWO ADULT KARTS AND A KADET KART £1,000
Here we have my karts up for sale as i simply don't have the time to use them, they need a bit of work but do run fine and are great funFirst kart is a Wright chassis, not sure on age, I think it's a 100cc, comes with an electric starter, needs brakes bled and a couple of bolts in the steering but other wise complete and running and in good condition
Second is a Biesse Shadow chassis with widend axles, I think this is a 100cc as well, this one is a push start, needs new rear axle fitted (comes with two spare axles one being new)this kart is in very good conditionThird is a Kadet Tony Kart chassis with a Comer pull start engine, very tidy looking little kart in need of a new pull chord and comes with spare wheels and tyres and some spare sprokets in various sizes.
They come with spare wheels with wets and vega slicks, some rear sprokets, bead breaker, two paddock stands one of which is new, both are wheeled versions I am looking for £1000 for the lot, I may px for a car, bike or something intersting

Part exchange
Car, Bike, Quad OR WHY