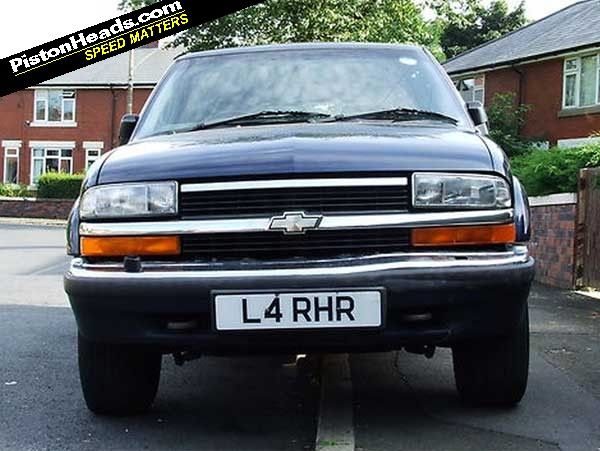 Blazers are cool, as anyone who has witnessed Garlick sipping a Pimms at the Henley Regatta will quickly attest.
There's another sort of Blazer though. It's more Willie Nelson than Lord Nelson, but the Chevrolet Blazer package of good ol' boy cruising, squishy steerhide seats, loads of toys and lolloping comfort for five plus medium-sized farm animals exerts a powerful allure. All at Shed prices, too. And in case you don't believe us, we've turned up not one but three of them.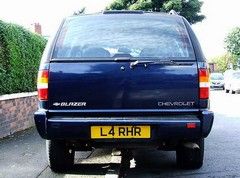 Shed goes for lb per £ this week...
The original breeze-block K5 'Jimmy' Blazer was launched in 1969 to take on the equally slabby Bronco, Ford's first 'compact' SUV (chortle). Unmessed-with examples of either Jimmy or Bronc now command big money in the classic truck market.
The S-10/T-10 Blazer you see here was a downsized, modernised, and (it must be said) sanitised K5. Launched in 1983, it was built in the States for over 20 years, and right up to 2011 in Brazil and elsewhere.
This rounded-out second-generation model appeared in 1995 with either two or four doors, and 2WD or 4WD. The two-door is rather cool, like a pumped Frontera. Sadly, it was dropped in 1999. This 2000-vintage RHD UK car has the standard 4.3-litre Vortec V6 and the commonly-optioned electronically-controlled 4WD. And that's good, because these beasts are by all accounts surprisingly capable off-road.
US owners seem to appreciate the Blazer's simple charms, praising its unstressed dependability and comfort, and the fact that many mechanical ailments can be fixed by nothing more scientific than a well-aimed kick from a dirty cowboy boot.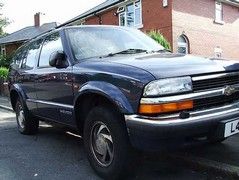 Honest and basic as mom's apple pie, etc
One thing though. The Friday afternoon 'lemon' car was alive and well in the US in 2000, and the Blazer line was not immune. If you're unlucky, there's a world of suspension, heating, cooling, electrical and transmission-related pain lying in wait.
This one
in Doom Blue looks honest enough, bar slightly wonky bumpers, an unthreatening-sounding oil leak and what looks like a slow puncture on the offside rear. The reg plate is worth money on its own, and with the owner inviting offers on £900, she's a tempter.
We know what you're thinking: running costs. In this case, we're talking about a realistic range from the high teens to the low 20s.
Fret not, however. The Blazer is perfect for LPG conversion, as illustrated by this one, also in death blue, and this cheery-looking red one that's on auction and therefore outside Shed rules but you could bag it for less than a grand if you're quick.
What's the deal with LPG nowadays? The bad news is that it's not as cheap as it used to be, and you need a larger amount of it to do a given mileage, relative to petrol. At the start of 2006, it was around 40p a litre. Now, it's closer to 75p. But that's still a bargain compared to unleaded which (you will note) is quietly creeping back up towards an average of 140p. That cost differential means you'll still save cash. For 10,000 miles a year in an LPG Blazer, based on a for-the-sake-of-argument average of 20mpg, your overall saving will be about £1,250 (£1,900 LPG, £3,150 petrol).
Cars like the Blazer are all about attitude and expectation. Don't expect Mercedes quality (though having said that, judging by the pics at least, turn-of-the-century Chevy rust protection actually seems superior to that of contemporary Mercs). Rattly plastics, busted seat recliners, kamikaze trim and panel 'fit' (pfft) won't give you a warm feeling inside - but rumbling along at 800rpm with Johnny Cash growling in your ear just might.
Advert is reproduced below:
hi im selling my chevy blazer the car is in good condition its motd and taxed so can be drove home if you insure it does have a slight dent on front bumper my fault opps a few scratches around oh and a slight oil leak the garage tells me its from oil filter or its housing bar these points car is great pulls well its never had tow bar so no excessive work anyway come and check for yourself its a cash on collection only please p,s anyone with less than 10 positive please contact me via ebay before bidding thanks for looking oh by the way it comes with a private plate worth the starting price