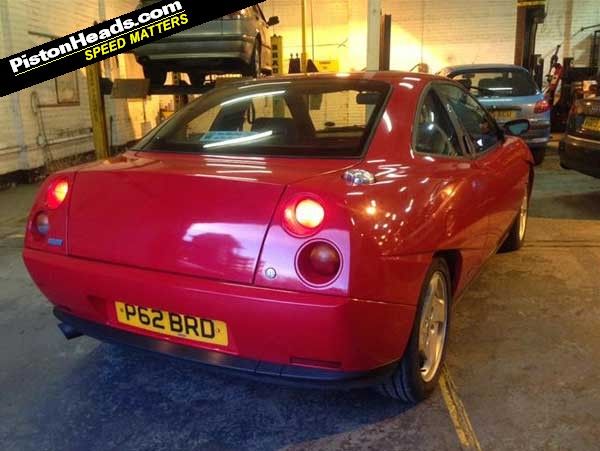 Can't afford an
Alfa 8C-based Disco Volante
? Shame. Never mind, at a fraction of one per cent of one of those, Shed draws your attention to this rather fetching Fiat Coupe Turbo.
Before his time at BMW, controversial auto stylist Chris Bangle worked at Fiat's Centro Stile. The Coupe was one of his efforts. Love him or hate him, you can never ignore Chris Bangle. Some of his BMW stuff seemed to be designed with appeal rooted more in the future than the present-day. He was - still is, in fact - a visionary, of sorts.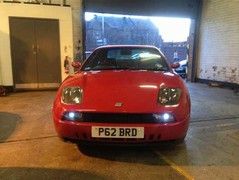 'Mini supercar' looks are a joy to behold
Shed met Bangle once. A decent enough fellow: beardy, smaller than you might have expected and clutching a notepad for the instant recording of those many inspirational flashes he received from who knows where. Trouble was, Shed couldn't take him seriously, what with him being named after an item of teenage jewellery. He spent the whole five minutes trying to nod sagely at the Special One's insightful pronouncements, while stifling a latent snigger.
By any objective measure, the Coupe's individual styling elements like its squared-off wheelarches, long overhangs and bingo-wing hindquarters are, frankly, minging. From certain angles, the Coupé is less tempting beauty, more tenpin bowling shoe.
Somehow though, and against all the odds, it seems to come together. Those scallops and creases were well 'out there' at the time of the launch in 1993 and had hardly diminished in visual shock value by the time the car's life came to an end in 2000. They give the Coupe some of that pouncing stance that Bangle perfected in the BMW Z4, another car that prompted some head-scratching at the time but which is looking fresher with each passing day.
13 years after its demise, the Coupé's 'carved-clay' look has become standard fare on just about every cooking hatchback. Eeh, it just goes to show... er... something.
You could argue about the best exterior view - Shed personally likes the high chopped back end with the Ferrari-style lenses and 'racing' tank filler - but there's no arguing about the smooth style of the Pininfarina interior. That painted dash has a clean delicacy of line that you just don't see nowadays. Red with black leather is a classic combo too: a day spent with some polishing compound and a jar of leather food will produce something to be proud of.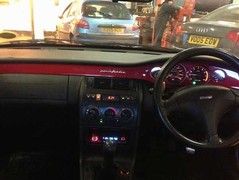 Flash of painted metal livens interior
When this one was built in 1996, the Coupé's reducing sales curve was given a lift by the arrival of the five-cylinder 20V turbo. With a posted output of 220hp, 6.3 seconds for the 0-60 and a top speed of 155mph it was, and still is, a serious bit of kit. Losing a cylinder adds a second to the 0-60 time and knocks 15mph off the top end, but the 16V numbers are still plenty respectable, and all-round independent suspension plus the well-respected Viscodrive slippy diff mean you can put it all down to the ground.
Shed reckons the 16V is a sounder used purchase than the five-pot too. Both cars are surprisingly well built, both are pleasingly reliable, but cam and aux belt replacement on the 20V is a knuckle-skinner (Fiat dealers will want to take the engine out to do it). Ignore the belts at your peril: unlike the Punto they're interference type and will wreak valvular havoc when they snap.
General problems? Not many. Front wishbones crumble, as do rear springs. Usual stuff like water pumps need monitoring, and of course lubrication is important in a turbo unit (Garrett T3 in this case). Normally-aspirated 16V camshafts are reputed to be a bit soft. Other than that you're looking at a solid, sporting and attractively different four-seat coupé which will deliver 35mpg when the blower's not spinning, with 240hp easily and (thanks to the forged Integrale crank) reliably attained via chip.
Still not sure? Ask someone who started out thinking they were going to get an Alfa GTV but changed their mind after having a go in a Coupe. There are some very good Coupe specialists out there too, like PowerItalia and L&M. Shed heartily endorses this choice.

---
Up for sale is my 1996 Fiat Coupé 16V Turbo
Its currently on 106k miles and will be staying there as i have a new car.
It has full electric pack (windows sunroof mirrors etc)
Full leather interior
6 Month MOT
1 Month Tax
Kenwood Headunit
As a mechanic, i have taken care of the car regardless of cost, it has wanted for nothing. it has had a recent service, two new tyres, battery, washer pump replaced, brake sliders and auxiliary belt