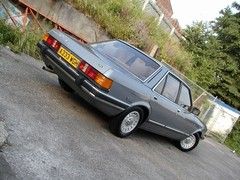 Judging by
last Friday's - admittedly rather wonderful - choice of Shed of the Week
, Garlick obviously has latent criminal tendencies, for the large Jag barge has been the smoker of choice for wideboys and gangster for pretty much half a century now.
But if that XJ12 SOTW was the perfect choice for the aspiring robbers of this world, today's offering might be the ideal vehicle for those with their heart set on catching 'em.
So, for all you Sweeney wannabes out there, may we present this rather appealing specced-to-the-nines Granada Ghia X. Don't go thinking that DI Regan had to slum it compared with his Jaguar-peddling quarry, either.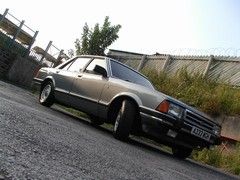 The Granada may not have been blessed with the acres of Connolly, walnut and Wilton that you'd find in an XJ, but don't forget that, back in the 70s and 80s, big Fords really could cut it as executive cars. And velour was positively fashionable.
You'll have plenty of toys to play with while luxuriating in those man-made fibre chairs, too. Electric mirrors, seats and windows, air conditioning and even a trip computer are yours for the fiddling - although not everything seems to work on this particular car. In the back there's even a gooseneck reading light for when you've got some paperwork to catch upon and you've got some hapless DS to do the driving for you.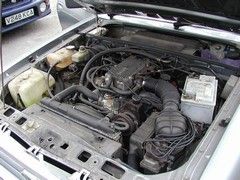 Once you're done playing with the toys, there's a 160bhp 2.8-litre Cologne V6 up front to help you chase after the bad guys.
But it's not all good news. Aside from a few electrical niggles, the seller admits that there's work to be done on the exterior, including a few bumps and dents to be ironed out - but this is SOTW, and you could surely live with a few dents and dings and some scrubby paintwork (especially if you'll be driving through the piles of mysteriously empty cardboard boxes that form an obligatory part of almost every car chase).
There is worse, however, and it comes in the form of the letters S,O,R and N. That's right; this week we're breaking our own SOTW rules in picking out a car that has neither tax nor ticket. But you'll never make it as a tough guy maverick cop without breaking a few rules. Or without tooling around in a Ford Granada.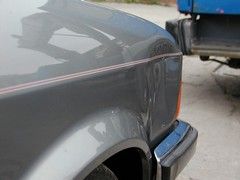 Advert
is reproduced below
2.8i Ghia X Saloon, superb nearly-rust-free condition (1984)
112,443 miles £1,000
Due to my new estate project, I must sell my saloon. She's very nearly totally rust-free (a couple of surface blemishes only, and a bit of grot around the front of the bonnet as they usually do). Underneath she's solid as a rock. A little tiny bit of surface work, and a proper respray, she'd look like she did out of the factory; she really is a good starting point for a light restoration.

She starts & runs fine - would benefit from a tune-up as the neutral idle speed is too fast. All the gears run fine and there's no unusual clonks or bangs from the gear train. I think she's got the wrong diff in, however, as she's quite low geared; brilliant for off-the-lights grand prix, but not so good for cruising at 90 leptons. Mileage wise, she claims around 112,450 - I cannot verify that I'm afraid.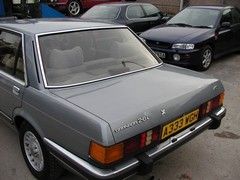 The engine is a little bit tappetty - the bloke I bought her from reckoned that when adjusted "just so" the V6 is "supposed to rattle". I'm not convinced, but she ran fine while I used her. She can get a touch hot & bothered in heavy slow-moving traffic, but she never actually boiled up while in my ownership. She's probably due an oil/filter change about now, I'll be happy to do that for the new owner if offered the right price. Oil pressure is absolutely bang on, as is the alternator. One of the pumps (water or PAS, not sure which) is a bit squeaky, but it doesn't seem to be causing any problems. 
The tyres are all in great condition & have loads of tread left. The spare is a metric tyre, and although it's got lots of tread, the sidewall is badly cracked & crazed, so I'd suggest a replacement is in order. The fitted tyres are all imperial (much cheaper than that metric nonsense). The alloys are in fabulous condition, almost entirely blemish free. One looks to have a slight rub on it, but I can't tell if that's a kerb mark, or that glue stuff they use when fitting the tyres.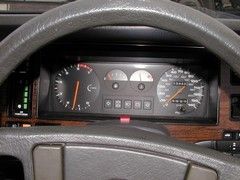 Electrically... most things work, but there are a few niggles: 
- One rear electric window is stuck; and all of the windows are a bit lazy. 
- The central locking suffers the usual Granada problem of Just Plain Doesn't Work Properly. You can see all the solenoids trying, but they just can't work through the stiffness to actually operate the locks. A good seeing to will cure this.
- The heater switch has failed, so the blowers won't come on at all. This is a crying shame as, when I bought this Granada, it was the only one I've ever had where the aircon actually worked! I can only assume it still does work, once you've fixed the blower switch, but I can't prove it.
- The hazard light switch only flashes the right-hand indicators. You can make all 4 flash by using the LH indicators on the stalk. That has to be the wierdest fault I've ever seen on any car, ever...
- A standard dipstick is fitted, so the oil level warning light is inoperative.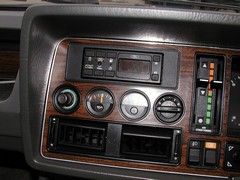 The interior is in great order; there's a touch of bagginess about the cloth, as the pictures show, and there's one repaired rip on the rear seat. The bolster adjustment wheels have both broken off (they're included with the car, FWIW), should be an easy enough fix, I just never got around to it. Some of the seat adjuster functions don't work; probably just corrosion on the terminals, as they used to be fine. Both electric mirrors work perfectly, if slowly. Sunroof works fine. Some of the interior plastic has faded, I guess it would need paint these days, I can't imagine many interiors being un-faded these days.
The exterior looks great from a bit of a distance (thanks to the lack of rust), but up-close there's a few bumps and dings which need looking at. By far the worst is the offside wing which I managed to dent 

frown
 It should come back out with a good panel beating & a smidge of filler. The bumpers have the usual minor buckles where they've been bumped in the past. The rubber bits are in good order, and the chrome is mostly OK; it should polish up fine. The paint is starting to look a bit second hand, especially around the boot lid area.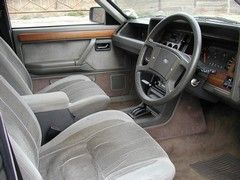 There are two unusual extras - an after-market high-level brake light is fitted (it works), and a goose-neck reading lamp in the back (which works, but is not fastened down).
Really, what this car needs is a very light exterior restoration - fix up the few dents, rub the whole thing down, and treat her to a proper coat of paint. Do that, and she'll look absolutely spectacular for another 25 years. This was something I'd planned on doing myself, but never got around to (always too many other projects on the go); and, now that I'm having to downsize & ditch all my other projects, I fancied an estate instead... and now that I've got the estate, sadly the saloon & I must part company.
She's currently SORNed, last MoT was in 2006. I don't think there's anything that would stop her getting a fresh MoT, except possibly the hazard light problem & the condition of the spare tyre.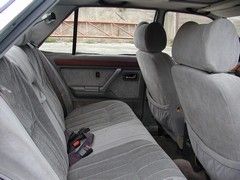 I can deliver her for £1.00/mile from postcode CH44 3BB.
There's a load more pictures available at this URL:
http://listerengine.com/pics/granada/
A very short test-drive around my yard is possible, but no speed tests (not enough room...)
Price is £1,000ovno.