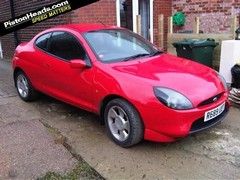 This week's shed is an odd-looking thing, really. The Ford Puma's styling didn't quite do it for many, who noted its attractive feline shape but felt it rather hampered by a gawkish stance and an oddly proportioned bottom. As such, many surviving examples have been modified in all sorts of ways, and plummeting used values have given the characterful coupe a rising following among the more tasteless car modifying communities (boo-hiss).
The scarcity of the hot Racing Puma (1999) also tempted owners of 'boggo' ones to try (generally unsuccessfully) to ape its beefed-up look. Which is why a nice, standard example like this week's SOTW is a refreshing sight - especially for the sort of money Shed keeps in its pocket.
The Puma pounced (sorry) onto the scene in 1997, and was an instant hit with critics. With one swipe of its tiny paws (sorry again), the Fiesta-based compact coupe trounced (admittedly ropey) rivals like the Vauxhall Tigra, Renault Megane Coupe, Mazda MX-3 and the truly awful Toyota Paseo. Here you could get an even sharper version of the contemporary Fiesta's chassis and a peppy, reliable 1.7-litre four-pot (developed jointly with Yamaha) mated to a slick, precise gearchange, all wrapped up in a distinctive and unabashedly modern body.
Despite the above reservations on the styling from some quarters it was certainly a bold shape, exemplifying Ford's 'New Edge' design philosophy that had been launched a year earlier with the Ka, and suggesting a sporty new direction for a company whose last effort at a coupe was the manifestly underwhelming Probe (which was coincidentally dropped in the same year).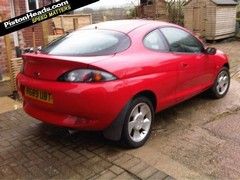 Marketing played its part too. While fellow coupes like the Tigra went for the 'cute' angle, Ford pitched the Puma as something altogether more cool. Its
clever telly ad
won numerous awards, featuring clips of a Puma being driven hard through San Francisco spliced together with scenes from the film Bullitt, and even managing to make it look as though the deceased Steve McQueen was driving. Above all, Ford were pushing this as a driver's car, equipped with their marketing motto 'Puma: A Driver's Dream'.
At the same time, Top Gear made the Puma its 'Car of the Year' for 1997 (remember Tiff Needell doing that heroic J-turn?), praising the Puma's pin-sharp front-wheel drive chassis and cheerful chuckability. I remember sitting in the back of one as my older brother took it for a test drive shortly after the car's launch, having an absolute ball racing around local roads and conveniently 'not noticing' the speed dial as it crept to the car's advertised top speed of 125mph on the motorway. Surprisingly, the car was still pulling (and even more surprisingly with the young sales chap telling him to 'Keep pushing!').
The performance from the 123bhp engine was nothing special. 0-60mph in around 8.5 seconds was hardly going to melt tyres, but it did mean the Puma could keep up with the Golf GTis of its day, and that was arguably all a sub-£15k coupe needed to do at the time. A 1.4 version joined the range in 1998, offering just 88bhp but winning fans and sales with its low insurance premiums, until it was replaced in 2000 with a 100bhp 1.6. A multitude of special editions including Millenium, Black and the limited-run 153bhp Racing Puma emerged before the Puma was retired in 2002.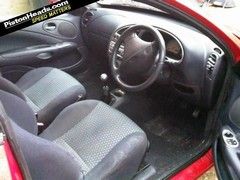 The Puma we've found
appears to be a pretty straight example. It's an early model with the bigger 1.7-litre engine and looks just a T-Cut away from great in its bold red paint.
Like almost every surviving Puma we found at this price level it has some rust bubbles over the rear wheel arches (evidently a weak spot), and a damaged seat bolster (which has the added benefit of looking absolutely filthy in the photos). But apart from those bits this Puma doesn't seem to have fared too badly over its 102k miles, escaping the modifier's clutches and, because the Puma was never built or sold in particularly vast numbers, unmolested ones like this are getting rarer.
Ad reads:
Ford Puma 1.7
98 R reg
102k miles
8 month TAX
2 MOT
Air-conditioning
Central locking
Electric windows
Electric mirrors
Perfect working order with good bodywork for it's age.
Bad points - small rust bubbles to rear arch (common Puma trait) and a hole in the driver seat boulster
£950 no offers