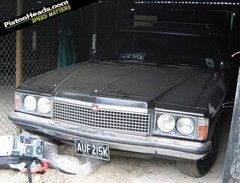 With poor old Blighty caught in the vice-like grip of winter, it's only understandable that Shed would head south, searching for warmer climes. Thus we find ourselves Down Under (metaphorically, at least) for Shed of the Week, to consider the delights of a Holden Kingswood HQ Station Wagon.
We say metaphorically, because this Aussie refugee is actually resident in less-than-Antipodean West Sussex. But it is well and truly, one hundred per cent Australian.
The HQ-series Holdens started life in 1971 and were apparently the first ground-up Holden design since 1948. Unfortunately, Holden's then-MD, George Roberts, wanted the car to handle 'like a Cadillac'. Being the early 1970s, this meant suspension made of blancmange and a car for which the adjective 'wallowy' was just too weak a word.
The press gave the car a predictable shoeing, but the buying public loved it, with 485,650 examples built overall, making it the most popular Holden ever.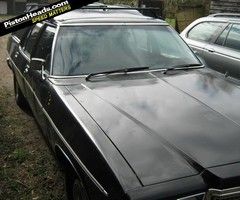 The Kingswood Station Wagon isn't without its plus points, either. In the case of this particular car that comes in the form of 5.0-litres of Chevrolet V8 and a perfectly reasonable 240bhp (in original trim - this one's been massaged with a couple of bits and bobs but may also have lost a few horses over the years.
It's also massive, so you'll be able to fit in simply loads of cans of Foster's or barbecues...
This particular car also has the later HZ nose, a set of Penta Star mag wheels (not shown in the pics) and, being an early 1973 car, exempts you from road tax. Heck, it's even got a few months of MOT left.
But there is a catch for your £900-worth of Australiana and that's - by the seller's admission - copious amounts of rust. Fortunately, the underside has been protected from the iron oxide, but the roof and doors are pretty rotten. The seller does say he'll chuck in a spare door for free, but that's in Oz, so you'd have to ship it to the UK - which might be a bit of a bind.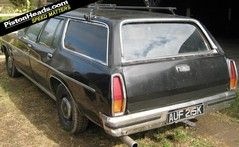 Curiously, the seller says that he would hate to see the car end its days on the track - as though it's remotely likely that someone's going to turn this wallowmobile into a track toy.
It might not be the ideal circuit car, but there's a certain appeal to this big ol' Aussie brute of a car - even if it does have 'money pit' writ large across every rust-eaten panel...
Advert is reproduced below
Holden Kingswood Station Wagon V8 1972 T & T (1973)
£900
Sadly for sale due to a lack of time and an abundance of rust is my early HQ wagon, mechanically its great last big run it did was 180 miles upto Chesterfield from Gatwick no problem right up till the thermostat stuck, (now removed it temporarily).

However its been (repeatedly) pointed out that I have more projects than spare time and i'm supposed to be selling my stuff not buying more to take to NZ so its got to go.

It stands me at at least £900 with a set of Penta Star Mags and a chevy HEI dizzy, its taxed (exempt anyway) till next year and MOT'd till next March, obviously its RHD and cool as, but its also pretty rotten all around the roof, 3 doors are repairable and so it the tailgate but the drivers door is the worst of the lot.
The underside has been kept well undersealed since it came into the country so its pretty solid - it passed the last MOT first time!

As I said it is a very early HQ hence its tax exempt but has been fitted with a HZ premier front and GTS guards, for those in the know it also has a full instrumentation dash which I beleive could be GTS as well

Its running a 308 (5 litre) V8 on LPG with floor change auto. Edelbrook inlet manifold with a Holley Carb and IMPCO lpg set up. It runs great on LPG but the carb needs jets cleaning out to run well on petrol - idles fine and revs out ok but theres not much on very light throttle - it is driveable on petrol once you are aware of this. Its also had a cam but I think its either standard or pretty mild, also got a history file going back 10+ years to Aus.

Selling is not really a decision I wanted to make but thats the way things go, its the only vehicle for years to put a grin on my face everytime i've driven it.

Photos - Its had the wheels fitted since these were taken and I started to have a poke at the rust.

I have a better passenger door in Aus that the buyer can have for free BUT they will have to get it over here.

As i've said I really don't want any part-ex's as i'm going to NZ next year - the only thing I would have leave my possesions behind to make container space for is an affordable Valiant Charger, a SL/R5000 Torana, or any of the Falcon coupes....... ;)

I really would hate to see this end its days on the track,
Ring me on 07845 340781 or PM me for more details.