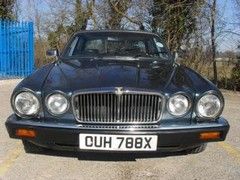 I love the current Jaguar line up, in fact I think they are one of the most exciting car manufacturers out there at the moment, but (and it's a big but) I doubt they will ever be able to recapture the romance that seeps from every panel of their older models. Ask yourself this, will the 2025 Phil Mitchell be tooling about in a 2011 XJ? Will the local 'man made good' swan about in a slightly tatty XFR? Will a modern day Arfur Daley park an S-Type outside The Winchester? I'm not so sure, but if it does happens I wonder if the sat nav will still work, if the modern styling will still look fresh or if the car will appear as sinister as the older cars do today? If I were a betting man, I'd say probably not.
Keeping with the Arthur Daley types (is the Minder theme tune in your head yet?) the older series of XJ will always be thought of as the car of choice for the slightly unsavoury, or the gloriously old money (OK, so Daley actually drove a Daimler, but you know what I mean). Far from being a negative this adds an immense amount of charm to the old Jags, and if you put the V12 into the mix you end up with the perfect wafter, still capable of cutting the right sort of dash outside of your chosen establishment.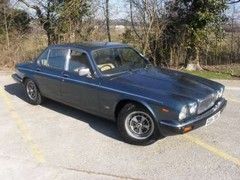 By now though, all the old Jags are either broken or being sold at the top of the market, right? Not if this weeks SOTW is anything to go by, as this lump of British heritage is priced a tenner under our imaginary budget leaving you enough change to pick up a packet of Hamlet and some matches to live the dream on the way home.
Buying a 29 year old V12 is almost certifiable for sure, but with an unbelievably low 50,000 miles and a (supposed) full service history what could go wrong? It has an MOT, and is described as 'solid' needing only 'minimal attention' to the bodywork by the new owner, but we say leave it as it is and enjoy the roughness. Fire up the V12, lower a window and woofle your way to the Goodwood Revival in your finest, or smoke down to the local boozer as if you owned the place - it suits both roles perfectly, and we love it for that. Want to be a PH hero? Buy this and make us jealous.
| | |
| --- | --- |
| | |
Advert says: 1982 Jaguar XJ12 HE 5.3 V12. Old Classic Beauty needs some restoration on the body work,solid MOTed car with full service history, exceptionally low mileage genuine at 50000, electric sunroof, lock, windows, leather interior, fantastic Jaguar that needs minimal attention by someone that really appreciates her. For any further details and pictures of every panel and engine just give us a shout please. £990 ONO or exchange