Sure, it's definitely-not-an-E-Type looks aren't the prettiest of lines, but there's an undeniable grace and presence to the XJS shape that makes it stand out from the crowd - it's aged distinctively if not necessarily well, shall we say.
Unfortunately, the car ad we had targeted as Today's SOTW - spotted by PHer RP1 - is no longer live, so we presume that some lucky/brave punter has already snatched it up. And it's a measure of how rare it is to find a clean, cheap V12 XJS HE (this one had tax and ticket, old MoTs, some history and looked clean, despite the seller admitting to a few rust blisters) that a thorough rummage around the UK's classifieds turned up nothing to remotely compare with it.
this 1986 V12
which, apart from the colour and the absence of cross-spoke wheels is pretty much identical to that mythical near-miss car that originally caught our eye on Gumtree. Except that the seller of this Jersey-registered car (actually the one we've used in most of the pictures) wants a full thousand pounds more.
In fact, the only V12 XJS we found that was comparable on price was this distinctly ratty F-plate example with neither tax nor MoT, up for £790, curiously - and we suspect erroneously - described in the advert headline as 'supercharged'.
So what's the moral of the story? (I didn't know SOTW had to have a moral - Ed.) Well, we suppose it's that you can find shed-price V12 Jaguar XJSes out there, but boy are they rare. And boy do they get snapped up quickly. Although given the model's potential to become a money pit, perhaps it's a good thing they don't come along all that often...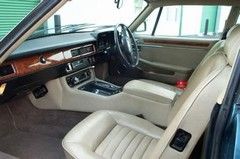 Advert for the original find is reproduced below
11 MONTHS MOT, 6 MONTHS TAX, NICE GENUINE CAR, SOME SERVICE HISTORY, ALL PREVIOUS MOTS, HANDBOOKS, ENGINE AND GEAR BOX BOTH GOOD, BODYWORK GOOD FEW BLISTERS,
LEATHER INTERIOR, CROSS SPOKE ALLOY WHEELS,ELECTRIC WINDOWS, CENTRAL LOCKING, POWERED STEERING,
DRIVES SPOT ON