the current Golf GTI
is well documented in these virtual pages, but VW's iconic hot hatch played a fairly serious role in my formative car years too.
that Paula Hamilton 'changes' advert
for the Mk2 Golf GTI. You know, the one where she leaves her husband/lover/other partner and throws all the expensive gifts away, but keeps the Golf GTI.
This had a dramatic effect on me. I know some people who developed a fairly serious crush on the shoulder-padded Paula, but the power dressing and massive hair had very little effect on me. I was five, after all.
No, what I was interested in was the car. As I grow older I began to realise that the Mk2 GTI was one of the great hot hatches. Chunky, reliable, fun to drive. Not perhaps as engaging as the original, but still a damn cool car. My matchbox 1:72 model would have to be replaced with a real one some day.
Occasionally, however, I find one that really tickles me. And today's SOTW is just such a car. Yes, it's the 8-valve model (boo) and a five-door (likewise). It's also done a hefty-ish 197k miles and runs on some not-especially-chavvy, but definitely non-original, alloys.
But... It looks clean and straight, it's the desirable big-bumper model, the advert makes it come across as though the vendor knows what he's on about and its got plenty of ticket on it. Buy it before I do and stick some BBS cross-spokes on it... Chateau Riggers doesn't have the space for two Golf GTIs...
Advert is reporduced below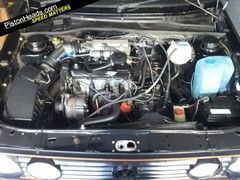 Golf Mk2 GTI 8v (Big Bumper) (1991)
197,000 miles £800
Specification: Volkswagen Golf MK2 (Big Bumper) GTI 8v
Mileage 197,000 
MOT: September 2012
Tax: 29/02/2012
History: 13/14 years

Good Points

The car is in fantastic condition for its age. The paint work is immaculate, apart from a few surface scratches, where the car hasn't been cleaned properly. The on-board computer is still fully operational as with the after-market head unit.


The engine has been cleaned recently as well as the exhaust tips, and has also had a service which includes:
4 New Iridium spark plugs
A new Dizzy Cap
New Leads
Oil Change
New air intake boot (due to the old one leaking air)
New vacuum hoses
Whilst cleaning the engine, I also cleaned out the idle speed valve (ISV), as the car wasn't idling correctly, this then solved the issue.
The car has been sitting in my garage for around 3-4 months now on trickle charge; it is started once a week until warm then put back in the garage after cooled.
Bad Points
There are a few rust bubbles in the middle of doors, which isn't serious as the rust is not anywhere near the frame. There are some scratches where it looks like the bonnet used to rub on the paintwork (at the top of the bonnet).
There is a dent in the passenger front wing, there is no visible paint damage, just a fist size dent which you can see in the images above.
The car runs really well, and even now in 2012, is still a head turner to the occasional car enthusiast. The main reason I am selling is that I will be soon moving away, the car shouldn't be stuck in the garage.
Please don't hesitate to contact me with any further enquires; I will accept any reasonable offers, as the car is just currently sitting there unused.