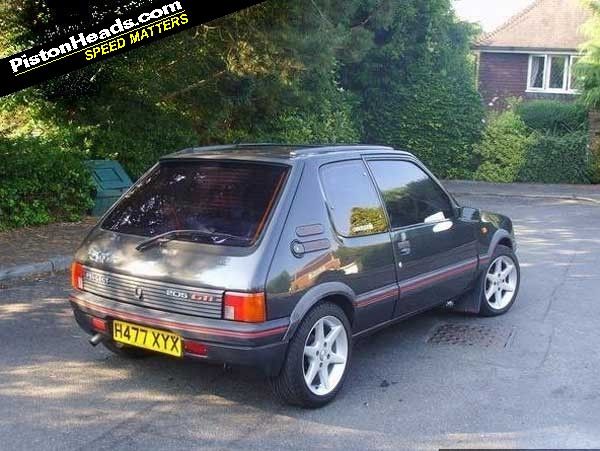 For all we know, Peugeot's upcoming
208 GTI
may yet turn out to be a worthy successor to the 205 GTI. The jury's definitely out on that one, but the gavel of doom was banged long ago on PSA's last two pretenders, whose main achievement was to stoke up fond memories of a much-missed car - and to ramp up their values.
Unmolested 1.9s can now fetch well over £5K, but good examples of the 1.6 are still available at sensible money judging by this late-model, four-owner example plucked from PH Classifieds.
If you want to dredge through previous discussions on the merits of the 1.6 and the 1.9, fill your boots here. Or save yourself the bother by accepting a simple truth, which is that both GTIs were brilliant in their own ways.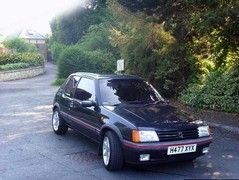 Get some proper wheels and you're away
An outfit I used to work for gave 1.6 GTIs to its staff photographers. Seems a mad choice now, and the accountant back then certainly thought so, but one thing's for sure; you never saw happier company car drivers. I remember one trip a snapper and I made to St Moritz, carried out at silly speeds in pea-souper January fog, but despite the car's reputation for off-throttle twitchiness, neither of us ever felt insecure behind the wheel. That was down to the delicate balance of the car, feelsome steering, a friendly gearbox and the snap of the light-flywheeled 115hp engine, all of it underlaid by the GTI's uniquely metallic exhaust note.
Whoever said 'the camera never lies' obviously had little experience of the internet, but this '91 specimen looks like a well cared for car that's had all the right mechanical attention in the last 12 years from an owner who clearly knows his XU engines. With just over 100K miles up, the next owner would be well within their rights to expect at least another 50K of fun. Sure, the odd bits of plastic will fall off, you'll want to check the rear suspension before buying and the usual corrosion checks will apply as they do to any 20-year-old French car. But if all that passes muster, and the interior is as clean as the exterior, your only job will be to think about replacing those aftermarket alloys with some correct pepperpots.
As we speak, Peugeot has just received what can only be described as a 7bn euro bung from the beleaguered French government in exchange for not closing one of its factories. Shades of British Leyland. Hopefully, the 208 GTI will help to take the Peugeot story to a happier place. In the meantime, let's celebrate an accessible classic which for many will always sit in the shadow of the 1.9, but which arguably comes closer to the definition of 'peppy' than just about any other car. And peppiness is a very desirable automotive attribute.
Advert reproduced below.
PEUGEOT 205gti 1.6 (£995)
Classic graphite grey,100,000miles-central locking,sliding glass sunroof,power steering,tinted windows,alarm.15inch alloys 195/50/15 all good tread high performance tyres-recent new clutch assembly-new genuine Ferodo front discs with Mintex pads and new caliper-long M.O.T-engine major overhaul about 20,000 miles ago with brand new pistons and matching cylinder liners,new camshaft and followers,main and big-end bearings,oil pump etc cambelt and water pump whilst engine stripped down to replace valve stem oil seals. Very clean and unmolested car for year and drives well.As a mature driver,I have owned this car for the last 12yrs and thoroughly enjoyed this legendary classic by which new Peugeots are still judged in motoring circles-a true bargain now at revised price(most in classic circles are in the upper £2000's or more!)