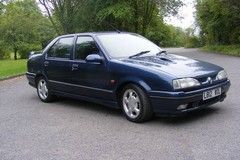 When I was a nipper, my dad and I used to do a bit of casual karting, and one of the tracks we frequented was Buckmore Park in Kent (still a fabulous track, should you ever get to go). And the boss of the place, at the time, had a Renault 19 16v Chamade, with the registration plate K4 RTY. Or possibly K14 RTY (I can't really remember - I was only 11 years old...).
For some reason, the combination of plate, car and place struck a chord with me and, for a while, I wanted nothing more than to be the owner of Renault 19 K4 RTY (and the kart circuit to go with it, if you please). Seriously, nothing less than ownership of a Ferrari F40 could have been cooler in my eyes.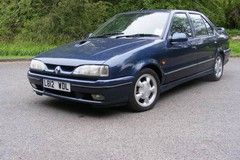 Of course, after a few years I did slowly begin to realise that my object of youthful lust was actually little more than the booted version of a good-but-not-spectacular hot hatch, and my ardour for it cooled somewhat.
K4 RTY has left more than a lingering trace of love for the 16v Chamade with me, though. But that is (in part) justified by a gutsy 140hp 1.8 and a surprisingly low 1070kg kerbweight that actually endow the 19 with a decent turn of pace.
I'm perhaps not as smitten as the vendor, however. He reckons the 19 Chamade is "One of the best driving sporty 90s cars on the road today" (it probably isn't), and that it "looks like a 2008 car" (it really doesn't). He also proffers the suggestion that "if you want to be noticed and want a slice of retro Renault, then this is the car for you", which we might politely describe as mild exaggeration.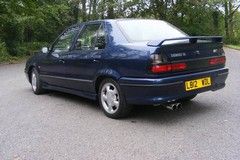 Be that as it may, the 19 16v is a quirky, moderately quick and oft-overlooked budget performance car, and this one does seem to have been well looked-after (146k careful miles, don't yer know...).
£950 for the car that, for a while at least, I considered to be as desirable as an F40?* Quite a bargain I'd say...
*I realise people who aren't me may not feel the same way
Advert is reproduced below
Renault 19 16v Chamade For Sale (1993)
£950 Or near offer
One of the best driving sporty 90s cars on the road today fast, reliable and looks like a 2008 car. This car has a history file to die for and includes recent battery, clutch and braking system and has a long tax and MOT. 146k careful miles. The car is finished in dark blue metallic and is well finished with unmarked leather interior, electric sunroof and expensive cd system. The car has PAS and remote locking and excellent alloys wheels with good tyre thread. Genuinely if you want to be noticed and want a slice of retro Renault then this is the car for you! Delivery to mainland can be arranged.