It's detailed without being waffly, it's largely literate, genuinely engaging without being glib and in no way lazy or condescending. Essentially, this is an advert that gives you confidence, that suggests the vendor is a genuine guy who has looked after his charge at least reasonably well and who is not, to put it perhaps a bit bluntly, a fly-by-night shyster who can't string a coherent sentence together.
It's also got plenty of that good-old Saab quirkiness - there aren't many hatchbacks among this car's contemporaries, nor FWD offerings. And Saab is probably also the only manufacturer capable of making three-spoke alloys look respectable.
This could well be one heck of a quick shed, too, as the 2.3-litre turbocharged engine put out 225hp as standard and, with an ECU re-map and a de-cat exhaust, the vendor reckons it's good for 270hp. Which would certainly be enough to trouble the front wheels...
The ICE upgrades - which includes subs and amps in the boot - might not be everybody's cup of tea, but the seller has cleverly installed them in the parcel shelf, so they don't utterly ruin luggage space. And if you really don't like them, then they'd probably fetch a bob or two on eBay...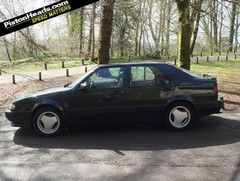 It's definitely a bit of a punt, this Shed, but go in with your eyes open and it could be quite a hoot. And certainly more exciting than the other car we'd shortlisted this week - a squidgily luxurious but thoroughly uncool Volvo 960 3.0...
Cheers to PHer seefarr for the spot!
Advert is reproduced below
Saab 9000 aero (1997)
190,000 miles £1,000
-- open to offers, £1000? --

Saab 9000 Aero, manual
Scarabe green, sand interior, 190,000 miles.

I have to sell the 9000... at the moment it is not being used and it just isn't enjoying sitting still.
I have had this car for 3 years, in which time it has been fantastic to me, but my head was turned by another model. The car tax man has now written to say that if not insured it has to be declared SORN, which makes it too much hassle to insure just for a run around now and again. So it is now SORN and not insured, although the MOT lasts until July, so you can come and drive it away if you want me to sort out tax for you.


Good - serviced at MOT time while i have had it, with oil changes in between. It has Maptun stage 2 ecu, 3" downpipe and full stainless exhaust system (so no catalytic converter is fitted, but i have an in-line pipe and cat which is easily bolted in for MOT purposes... (amazingly it actually passes emissions but most testers won't pass it without one). The wheels are fully re-furbished and virtually mint condition. The interior is great, and is leather conditioned regularly. The exterior is good too, and comes up lovely and shiney! The stereo system is amazing, upgraded all around with some subs and amps in the parcel shelf so that you can take them out easily if you need to use all of the massive boot space. The expensive head unit has single Cd player and auxillary input. It has new headlights from the last MOT which are traditionally an issue - these are left hand drive parts, with stickers on, I couldn't believe how much better these are than the old ones (I also have the old lenses if you want to clean them up and fit them). The tyres are good Toyo Proxes on front and very good P6000 on the back. Its even got half a tank of super unleaded. No significant issues at all, should pass the MOT ok again in July, but as always there are some bad points to consider...
I am looking for offers around £1100. It is a good version of this model and parts are probably worth more but I don't have the heart to break up such a good car to get the best money (you feel free to, but don't tell me)
Let me know if you want any more information, photos, etc. pictures are from 2 years ago when had the wheels refurbished, shows a black grille which you can have if you want but has a shiney chrome one fitted now.
Rich.