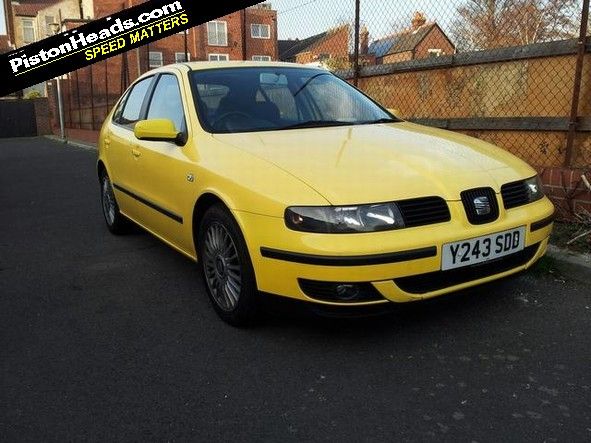 The late 90s and early noughties were a dark time for the Golf GTI. For all its soft-touch plastic plushness and BMW-chasing 'premium' feel, the Mk4 Golf was not blessed with much in the way of hot hatch appeal, to the extent that VW didn't even attempt to market a GTI version except for in the hot hatch-hungry UK.
And even then VW frankly cocked it up. Among the more dreadful marketing decisions of the past 20 years has to be the decision to offer a version of the Golf GTI with a wheezing, naturally-aspirated 115hp 2.0-litre engine. There were, of course, 150hp 1.8T versions as well, but these were hardly the last word in B-road brilliance.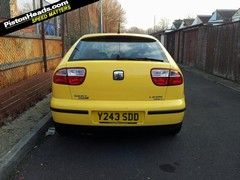 Which is where SEAT, the perennial poor relation of the VW Group, comes in. It presented the world with the Leon 20VT, a car based largely on the Mk4 Golf, but with an extra 30hp, and quietly out-hot hatched anything VW had to offer at the time.
Subsequent hot SEAT Leons have become ever more lairy in both bodykit and power, but the original 20VT was quite a fine car in its own way. Okay, so it wasn't as nice as inside as the golf, and its ride and handling lacked a certain amount of finesse, but it was a solid, straightforward and actually quite subtle hot hatch. A Q-car, almost.
This particular model perhaps isn't quite so 'Q', resplendent as it is in its look-at-me yellow, but it's still a lot of poke and practicality for the money (challenge to all PHers: find shed a contemporary - or newer - hot hatch for the same price with more power).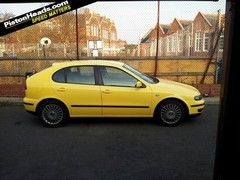 It's also seen better days from the sounds of it. 136,000 miles isn't astronomical, but they've obviously been pretty hard miles, as the vendor admits to the car being 'in tatty condition', with a leaky door and a leaky turbo. Which makes it sound like a bit of a pup. Then again, it has plenty of tax and MOT left on it, and those tatty edges could prove an excellent bargaining tool in driving down the £900 asking price ... even if the vendor does say that "the price is firm no offers its probably the cheapest on here and is far from being a dog."
Thanks to PHer only1ian for the spot...
Advert is reproduced below
Seat 20V T 180hp (2001)
136,000 miles £900
Here i have forsale my Seat, its the 20v turbo model version it has 136k and is abit rough around the edges. The car starts runs and drives has mot until october and 5 months tax it has some history. I bought it as a shopping trolly and child transporter however since splitting with the g/f i have no use for it anymore and in the 6 months i have owned it i'd be shocked if i have covered a thousand miles.

the car itself is in tatty condition with a few scratches/dents i it also splutters some mornings but never fails to start and never smokes knocks ect i have plugged in vag com and it shows a boost leak which is highly common on these. It also has the common door leak along with a few missing bits of trim 

however it is what it is a quick car for not alot of money if someone spends a little bit of time and effot they could have a real bargain

the price is firm no offers its probably the cheapest on here and is far from being a dog