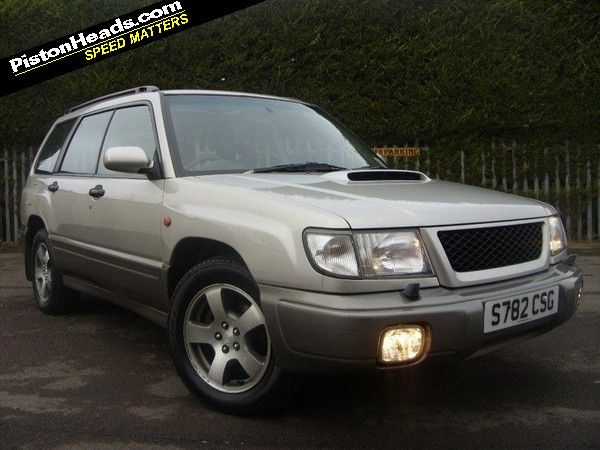 Ah, winter. A time when forecasters protect their careers by cleverly predicting cold weather. When the horrid gooey mud of autumn is magically transformed into similarly horrid crunchy mud. And when a Shedman's fancy turns to something that might give him maximum element-busting motoring for minimum outlay.
If you put all the motor manufacturers into a school playground, Subaru would be the weird kid on his own in the corner smoking a fag and trading in dodgy manga comics. Their cars have always been a bit 'out there', appreciated as much for under-the-radar otherness as for ability. They're very popular in the States - but that's mainly because many US buyers think it's a Scandinavian brand.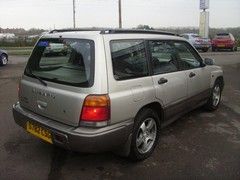 170hp of turbo'd competance
The Forester is a perfect expression of Subaru's quirky (and seasonal) appeal. The
new turbo'd version
we hear will have 280hp but paired to a stretchy CVT gearbox.
However the old manual car from the late 1990s is so far up Shed Street, it's turned off into Wintry Way and parked up nicely in Contentment Close. Its sit-up-and-beg blobbiness may look uninspiring, but hiding underneath that dromedary bodywork is an honest broker of a car that's rich in both purpose and ability.
Combining full four-by-four diggability with streetcar wieldiness, the basic Forester is both pleasingly functional and thoughtfully specced. Plastic-armoured door bottoms will foil the dentmaking efforts of even determined supermarket fools. Inside, you're spoilt by leather control surfaces, cruise control, a sunroof, absolutely loads of storage space and the delicious luxury of heated seats.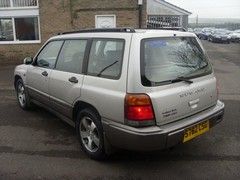 Almost as much winter cred as a Defender
This particular 1999 car has extra PH value as it is the 2.0 AWD S-TURBO model. The vendor, or more likely the advertising platform, appears to have mixed up the power figures. They're giving it 125hp, but that's the non-turbo car's output. This one should have around 170hp and be good for a 7.9 second 0-60 time. Big-turbo JDM versions gave up to 250hp, and you can go to 300 plus with time and money, but untampered-with UK models of this mobile breezeblock won't break 125mph.
What they will do though is comfort you with the cushiness of long-travel suspension, the unflappability of the chassis even in deep snow, and the soft woofle of that charismatic boxer four engine, as seen in the WRX but softer-cammed (and smaller-turbo'd) here for everyday torque. They'll even go around corners far better than any other off-roader at this money.
What dark secrets may lurk beneath those matronly skirts? Fuel costs will be on the high side with average mpg in the mid-20s (LPG conversions are popular), but you should be able to offset that with low maintenance costs. Forester owners love their strength and reliability. Head gasket failure isn't unknown, mind you. Judderiness or hesitation could be a MAF sensor problem or fritzy HT leads. Then again, it might just need new plugs and an air filter, or switching to a diet of super unleaded.
With 100k miles up, this specimen is due its third cambelt, plus the associated tensioner and water pump. Worth asking the vendor about that, and try to make sure that whoever did (or is doing) it does the crank pulley up Tarzan-tight. Check the brake discs, wheel bearings, rear shocks and cat. Alarm systems (probably bunged on at the UK port) can be temperamental, especially in the presence of mobile phone masts. Stranger than fiction.
Tiresomely, the ad shows no interior shots. Being a miserable old sod, I tend to assume the worst when dealers who should know better 'forget' this sort of thing, but Forester interiors are pretty industrial. Unless the seats have been used for growing cress, you're unlikely to face anything too grisly when you open the door - but make your own judgement. Or a phone call. It might turn out to be the best one you make all year.
See the original ad here
The Ad
Subaru Forester 2.0 AWD S-TURBO 5DR ULTIMATE WINTER VEHICLE 1999
5 Doors, Manual, Estate, Petrol, 100,000 miles, Metallic Silver, MOT-02-2013. JUST IN PX SUBARU FORESTER 2.0 S TURBO AWD ALL WEATHER PACK, IN SILVER MET, ALLOYS, FOGS, MUDFLAPS, SPORTS SEATS, AIR CON, ELECTRIC PACK, SUNROOF, DRIVES SUPERB, VERY CLEAN AND TIDY, THE ULTIMATE SNOW VEHICLE, TAXED AND TESTED, PLEASE NO OFFERS ABS, Adjustable seats, Adjustable steering column/wheel, Air conditioning, Alloy wheels, Anti theft system, CD, Central locking, Child locks, Colour coding - Body, Cruise control, Driver airbag, Electric mirrors, Electric windows, Foglights, Front armrest, Head restraints, Headlight washers, Heated seats, Limited slip differential, Metallic paintwork, Passenger airbag, Power assisted steering, Radio, Remote locking, Roof rails, Self levelling suspension, Side airbags, Sunroof, Tinted glass. Insurance Group:17D,
CALL US ON 0191 5260000 OR 07917890808. £995 p/x welcome