We like a Caterham Seven here at PH so news of one joining the PH Fleet for an extended loan has got us very excited. Just one slight snag. Perhaps slightly ambitiously we said we'd build it first. This was inspired by a desire shared by several on the team to live the dream and build a Seven. Without necessarily thinking through the practicalities before we pitched the idea. One Caterham readily agreed to.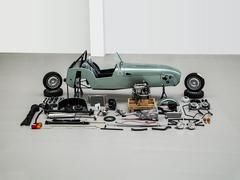 Which is where we need your help. And if you too have always wanted to build a Seven, drive one and then write about your experiences now's your chance.
Basically we're looking for seven PHers to help us build the car, which is going to take place at Caterham's HQ in Crawley, West Sussex over the Easter Weekend. We're going to be ambitious and build the car over the course of the single weekend, both because we're keen to get the car out on the open road ... and because Caterham could only spare us a couple of days in the workshop. It'll be fine...
That's just the start though. Once the car is built we'll be running it for seven months (you may be picking up on a numerical theme here...) and each month one member of the build crew will get a weekend with it to write their very own PH Fleet update for the homepage. So you not only get to build the Seven, you get to help us review it too and your words and experiences will be part of our ongoing fleet reports.
What about the details? And are there any catches?
Surprisingly few! First and foremost you'll obviously need to be a devoted PHer and regular forum contributor. On top of this, being available over the Easter weekend and be capable of getting yourself to Caterham Gatwick scores highly! We'll be splitting the build crew into two separate teams in order to prevent everyone from falling over each other, with one working on the car on Saturday April 15 and the other on Monday April 17. During this process we'll be taking photographs and filming so it goes without saying you need to be comfortable having a camera shoved in your face!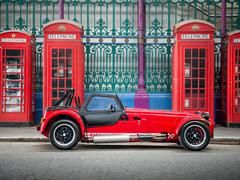 For insurance reasons, you need to be at least 25 years old to apply and hold a full UK driving licence. We also want all of the team to be new to the Caterham experience, so you shouldn't have built or owned a Caterham (or similar) before.
Lastly, we need everyone to be comfortable with committing to supplying editorial content both during the build and over the course of the PH Fleet updates. We're not expecting incredible, polished and professional writing, but your copy needs to be at least workable! On top of this, we'd like people comfortable using social media to spread the word and share their experiences throughout the process, so you need to be an avid user of all the obvious channels such as Facebook, Twitter and Instagram.
Simple, all you need to do is email news@pistonheads.com confirming that you're over 25, hold a full UK driving licence and to tell us what your username is on PH. Then simply tell us in fewer than 500 words what exactly you'd like to use the Caterham for when we give you the keys to it. Bear in mind it needs to be something to inspire a great story and pictures to share with PHers on the homepage.
Entries will be open until April 6 and we'll contact the successful applicants on April 7 to give them the good news. If you're applying and serious about joining in then make sure you keep those Easter dates free.
And that's it. Good luck!
P.S. We'll supply both the spanners and an endless supply of tea and biscuits, so all you'll need to bring is yourself.
Watch our Caterham 310S video blog here.
Find out more about Caterham here.