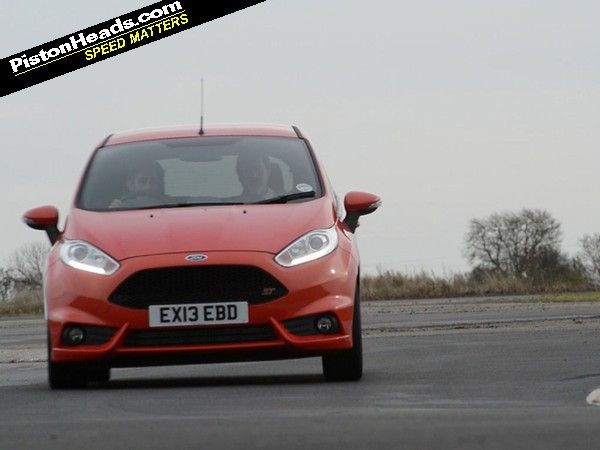 With six weeks rather than six months on the PH Fleet the Fiesta ST's appearance was, well, fleeting. We'd have liked to have had it longer, indeed we did blag another week in order to take it out on track, but between us managed to pack a fair bit of driving into that compressed period.
First Matt went to Essex and got it Mountuned. So equipped it was ready to take the fight to the Clio 200, the result of which you can read here. And something we'll be revisiting having just ordered a Clio to join the fleet in the new year.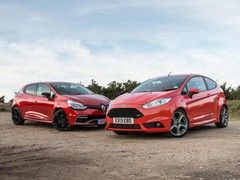 Not the last you'll be hearing of this contest
This will be interesting because I have a sneaking suspicion extended exposure to the Clio might prove enlightening. Drive the two back to back on a five-minute test drive and you'd think the Fiesta a riot and the Clio dull as ditchwater. After a couple of months you might have softened toward the Clio but be having too much fun in the Ford to care. After six? I have a theory there might be hidden depths and sophistication to the Renault that will only come to light after digging deep. At which point the Fiesta, having offered everything up front, may suddenly find the larder empty.
We'll see.
Saying that, having started my long journey up to Blyton Park for some driver training with Mark Hales I was ready to pick holes in the Fiesta for being a little one-dimensional and wearing its heart on its sleeve. I still harbour a suspicion the Fiesta delivers all it has in the first nine tenths. But, by heck, it's fun and exploitable while doing it.
As time passed I found the choppiness of the ride characterful when in the mood and tiresome when not, the basic but well-judged damping just about keeping it in check. Fears the additional Mountune power would fizz the front tyres' grip away in wheelspin or ping-pong you down the road with torque steer seemed ill-founded though, the Fiesta eager and strong in any gear with plenty of usefully placed punch. Road noise aside it's not a bad cruiser either.
A greasy circuit was an excellent place to cast a more critical eye on the Fiesta's behaviour too. Personally I found the steering a little springy and not exactly full of feedback. I found the brakes a little grabby too but overall the Fiesta's inherent neutrality and balance shone through as an excellent foundation for further exploration.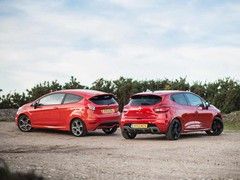 We've spent time in one, now for the other
Physics and layout dictate it's nose-led but unless you're a lead-footed lummox you can balance the power delivery to avoid too much electronic intervention or wheelspin. And there's plenty of scope to adjust the ST's angle of entry to the corner and set it up to deploy that additional firepower as early and effectively as possible. Even with stability control in place the Fiesta will, suitably provoked, throw some surprisingly dramatic shapes but it's all delivered with an accommodatingly soft edge to the limits.
Where most play it safe Ford has been willing to let the Fiesta pivot around its central axis and there's lots of scope to experiment with corner entry speed, lifts, trailed brakes and more to get it moving around. It's fun, rewarding and fast, just that twanginess in the steering detracting from the overall sense of flow.
Many have commended the Fiesta for its back to basics, interference-free nature but in extremis you get the sense the black boxes aren't entirely leaving you to your own devices. With the stability control supposedly fully disabled there was the occasional hint of intervention – the brake actuated eTVC 'enhanced Torque Vectoring Control' the likely culprit – but we're perhaps getting a little fussy here. The Fiesta is a hoot and Ford is to be commended for including these hidden layers of adjustability behind that eager to please façade.
So it's not perfect. But Ford has spent its development budget keenly and created a sense of that feistiness and adjustability we once loved in our Clios and 205s without the hunger to punctuate the nation's hedgerows with hot hatch sized gaps. As I said, I have a suspicion the newly sophisticated Renault may reveal hidden talents at the very upper limits and it'll be fun finding out. But that Fiesta in the mirrors is never going to be far away.

---
FACT SHEET
Car: Ford Fiesta ST-2
Run by: Anyone who can commandeer the keys 
On fleet since: October 2013
Mileage: 7,135
List price new: £19,645 (Basic list of £17,995 plus £725 for Molten orange paint, £75 for adjustable boot floor, £400 for Sony DAB nav system, £100 for spare wheel, £75 for Deflation Detection System and £275 for ST Style pack comprising grey wheels, illuminated sills and red brake calipers)
Last month at a glance: 'Forgot' to remove Mountune kit, went and overtook some Ferraris

---
Previous updates:
Whistlestop fleet appearance for in-demand Fiesta ST

---
Photos: PrimeExposures, Antony Fraser